Congratulations on Deciding to Buy in San Francisco...
You're about to accomplish what very few people can, we think you should be proud of that. Even better, your odds of successs just went up that much more because you're working with Kevin+Jonathan
The buying process can be a tough one to navigate but it's a rewarding one that will connect you to San Francisco in a very deep way. It's our job, task and pledge to help you navigate through the multitudes of information and considerations that accompany San Francisco property purchases.
With us, you get the talents of a lawyer, reporter, nurse and guide dog (we'll let you guess who's who) who truly love what we do. We love using technology to help streamline and democratize the process. We love getting to see the City through your eyes and find ourselves learning something new all the time. We watch the market like hawks but also know that real estate is more than just buying and selling — it's about changing your life for the better.
Take a look at the various resources, tips and testimonials below that are here to give you a sense of how things will go from this point. Let's begin, shall we?
Exciting. Nerve-racking. Daunting. Rewarding. Fulfilling. Anti-climatic. Logical. Dramatic. Life-Changing. Expensive. Prudent. Emotional. Imprudent. The 'Adult' Thing to Do. Comforting. Wise. Exhilarating.
Time to Get Started.
As we begin the process, here are a couple of items for you to consider.
NEEDS + WANTS
What do you want to buy?
Here's a chance for you to tell us what your next property looks like. The form below has a short version and long version and should help you get started before we talk.
A BUYER QUIZ
A Quiz Already?! But I just started!
We have an intro pop quiz for you that will not be graded of course. The quiz is designed to help you understand why values vary so much in San Francisco.
ON THE MEDIA
How You Can Help Us
Check out our SF Chronicle guidance on what things Buyers can to do help the process along.
IN JUST A FEW STEPS
How the process will go — an overview
In a nutshell, we've listed the buying process in sequential order here.
ON THE MEDIA
Sorting Out Priorities
Check out our SF Chronicle guidance on how Buyers should set their priorities.
Big Picture Things.
To buy confidently and assuredly in San Francisco requires a bit of market knowledge of all the nooks and crannies there are here.
WHERE IS THAT?
Geography, Neighborhoods and Fog
A lot can fit within the 49 square miles of San Francisco. Realtors carved the City up into 10 large districts of the Multiple Listing Service (the MLS). Here is our p.o.v. on all of them including discussion of a neighborhood's vibe and live home sales data for each.
BUYER TESTIMONIALS
Why Folks Work with Kevin and Jonathan
Here's where we let our clients tell you their experiences with working with us. We love helping folks change their lives in such an important way.
PROPERTY SEARCH
A Proper Property Search
Better than Zillow-fin. Use our credentials to find property currently on the market all over the Bay Area. Be sure to sign up for an account too.
YOUTUBE VIDEOS
Moving Pictures of Houses, Condos & More
See what properties look like on the inside. If you can't make it to a property we will often go and preview it for you but instead of just telling you about it, we will make a YouTube video for you. Take a watch of one of the more than 700 that we've made to date.
OPEN HOUSES
Where and When
Open houses are the most obvious ways to see properties and they take place on more days than just Sundays. See when below.
VISUALLY SPEAKING
What if the Buying Journey Were Laid Out in One Place?
Which reminds us, we have a map for that.
Buying a home involves a lot of processes. There are are a lot of different places, paths and tracks we'll take. There will be stops anticipated and unexpected (even if you're an all-cash buyer with a short escrow). Keeping track of all the moving parts of the purchase, diligence and closing process can be a bit overwhelming. Don't fret.
Remember that you're not only working with talented real estate agents but one of them happens to be a trained reporter who likes graphic design and maps. What's below is the result of that combination.
Going to Bat For Our Clients
One of their many strengths is breaking down the many steps of purchasing a home into simple easy to understand terms. Their advice was always considerate, honest and supportive. We are now in our new home and despite having closed 6 months ago are still fortunate to be able to contact them for follow on assistance and help. They are always just a phone call away and always willing and happy to offer guidance. I hope that if you are reading this that you will strongly consider them as your realtor.
— Ross and Sarah, Noe Valley Buyers/Homeowners, Tech, Finance, Parents
Step by step they guided us through the process and advised us on how best to proceed. Most of all their encouragement is probably what kept us in the game that otherwise I thought we could not have won. I worked with other agents in the past but Kevin and Jonathan had the knowledge and commitment to get my me and my family into a home when others could not. Thank you guys!
— R+K, Bernal Heights Buyers/Homeowners, Architecture, Education, Parents
Buyer Support Over the Long Haul
All good things come to those that wait! While that's not really my motto, it turned out to be true for the house search and Kevin was there for the long haul. He was recommended by my coworker and I liked him instantly, he is all about the clients and their needs. He is super responsive, techy, great eye for design and has great ideas and network to help with remodeling, design, etc. He was a lawyer in his previous life, so he's great at reviewing contracts and the legal expertise.

Our search started in 2012 which was an awful year without much on the market, so we go to know Kevin and he got to know us and what we liked and didn't like and what our goals were. The came 2013, with a but more on the market and a crazy competitive market. We put in about 5 offers and were outbid every time so things can get a bit frustrating. Kevin was very encouraging and told us the right place would come along.

He always sent us places he thought would be good, looked at every place we put in offers and gave us his professional opinion. Even talked us out of a few places where he thought we were caving to the pressure of finding a place, not that anything was pushing us to move except our own desire to buy. He really wanted us to buy a place we loved and felt comfortable in financially.

Finally in 2014 there were more places on the market, prices were high and new construction started to come out and we found the one we love. The benefit of new construction is that there is no bidding and so we got the place we wanted even a bit below asking. Kevin was there every step of the way, set us up with a lender, painter, handy man and was there for all the paperwork, and of course getting our keys.

I can't say enough about how great Kevin was an agent.
— Inga and Oren, Buyers, Dogpatch
H.R. and Tech/App Development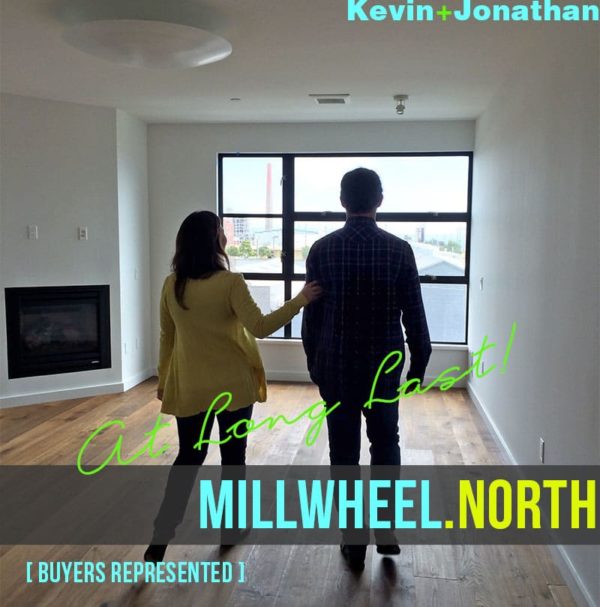 ---
We're more interested in getting you the right house, not the house right now.
---
What's Important To You?
Buying a home is both simple and complex. Simple in that you have a a goal of buying a place to call home that is yours and not someone else's that you have to pay rent for every month. It can be complex in a logical sense, especially in San Francisco where inventory is both older in many cases, limited in almost all cases, and highly regulated, and expensive — or in a deeper philosophical sense. Buying the space in which your life will take place necessarily asks you to examine your needs, wants and goals. Picturing yourself in a space in the future asks how you will see yourself in X number of years. So this is part of the reason why it is vital that you have the support of agents who have been there themselves and agents who have guided countless others in the same process with positive and successful outcomes.
What Does Your Future Home Look Like?
Part of the fun of the house search is imagining what your eventual home will look like. Our work together will steadily fill in the picture, which may turn out to be completely unexpected in the end. Or it may be exactly spot-on with what you pictured. Only time will tell, but the sooner you start the sooner we can get going
Starting Tips
You may have already started looking at properties, bookmarking or favoriting an open house you may have gone into, or tracking how that house at the end of the street sold. In those efforts (and it is more than fine if you have not done any of this), you will start to see trends and metrics that should give some indication as to how San Francisco's housing market is doing. We give you some quick tips on two of important figures that you may (or may not) see. This exercise is meant to show you how we tackle questions and offer context.
Days on Market
One way to assess the state of the market is by examining the median and average days on market (DOM). These figures indicate how long it takes for a property to sell after being listed on the MLS, and provide insight into the market's strength and demand. When DOM is low, it suggests a competitive market with limited inventory, prompting buyers to engage in bidding wars or make multiple offers, as seen in 2018, 2021, and early 2022. Conversely, if DOM is high, it indicates an excess of inventory, leading to lower selling prices.
While DOM is a useful metric for buyers and sellers, it is just one aspect of market analysis. When DOM is low, buyers must prepare for competition, while sellers should adjust their expectations if DOM is high. However, each case is unique, and 2023's market may defy conventional wisdom, particularly in San Francisco, where inventory remains low, DOM is long, and prices are moderating in some areas, but not all.
Square Footage
Determining the exact property square footage size in San Francisco can be a difficult question to answer as the people doing the measuring may be applying different standards (i.e., gross living area vs. gross internal area) or using differing methods when calculating a property's living area. Figures may simply depend on why a space is being measured in the first place.
Because of the above, you may see different numbers for the same property: assessor numbers; appraiser totals; condo map numbers; graphic artist tallies; and so on. When it comes to this question, we advise our own buyers that a space is as big as it is. What matters more, in our opinion, is how the space is used and if it fits with your goals for buying a property. Things that make a home livable — ceiling height, layout, flow and natural light, for example — may end up mattering more to some buyers than to others.
What Else?
Some potentially relevant links and pages to consider