Kevin+Jonathan
THINK ALL NEIGHBORHOODS ARE THE SAME?
They Aren't.
Find out how they vary.
10 MLS Districts.
85 Sub-Districts
Countless Possibilities.
The 10 Districts Splayed Out Before You
From its diversity comes San Francisco's strength. And it is because of that strength that San Francisco continues to draw entrepreneurs and innovators alike as it has done so since its founding — even in light of the Pandemic, the booms and busts. The City has seen waves of population booms and ebbs. Housing crunches (and crises) are a part of San Francisco as much as the fog has been. Because it's been a boom town, it has attracted folks from far and wide seeking opportunity which has led to diverse architecture, housing patterns and market quirks.
Broadly speaking, each boom, of course, puts demand for more housing stock; after all, everyone needs to live somewhere, right? There were early 49ers who made their fortune who lived in the mansions of where South Park is (which is based on an English oval-type of layout) only to move up to Nob Hill and Pacific Heights. Chinese immigrants who built the railroads and supported the gold miners concentrated near Chinatown. Irish populations occupied the Sunset and Richmond only to be displaced by Chinese residents over time. Then there was purposeful displacement of large black populations from the Fillmore to make way for housing development to the fringes of the City. Through that throw in some other population influxes like WWII and its aftermath that drew even more people to the City and you'll start to see how the City grew over time and continues to grow today. Strong historic protections, tax policies that favor long-term ownership, rent control laws and regulated buildings combined with necessity which may explain the architectural distinctiveness between and among the City's neighborhoods.
Using a 1979-era map that accompanied a California Living magazine article that divided San Francisco's neighborhoods into 10 large swaths of land the San Francisco Association of Realtors used that map as the basis for its division of the City into 10 large MLS districts with at least 85 subdistricts. We explore those neighborhoods in detail below with live market data for each broad districts and observations, musings and other perspective they've seen as they help our clients buy and sell real estate in almost every corner of the City. Take a look at our survey below!
By Type:
(Neighborhood Characteristics)
Where the houses built during Queen Victoria and King Edward VIII's reign are (having been split up into condos, TICs or updated as large houses) …
Glass, steel, new and shiny (aka, condo buildings, both tall and mid-rise)
More 'Affordable' Areas
(aka, trending)
The More "Affordable" Neighborhoods/Trending…
The Most SF of SF's Neighborhoods (Visually and in Overall Affect)…
District 1
The Richmond, et al. (Click to Enlarge)

On the northwest portion of the City below the Presidio, south of the Golden Gate and east of the Cliff House and north of Golden Gate Park sits District 1.
The area is mostly dominated by the Richmond District but is also anchored by Sea Cliff, the Lake Street area, Laurel Heights (which is so very cute) and Jordan Park (where there are very, very large houses). The District features more houses than condos, which all tend to be on the bigger side than you'd get on the Sunset side for example. The area was settled earlier than the Sunset and points south, but after the central parts of the City, which also explains why the area is mostly laid out in a grid.
Yes, it's foggier but is also very scenic in parts as its bounded by Golden Gate Park, the Ocean and the Presidio and has more gently sloping hills than other parts of the City — some of which will have dead-on views of the ocean, Golden Gate Bridge or the skyline (more expensive anyone?). The other hallmark is that public transit is weaker here as there's no BART, no MUNI light rail line. This puts a lot of stress on the big thoroughfares like Geary, Fulton, 25th Avenue, Park Presidio and California Street.
The main shopping areas in the District: Geary Street, Clement Street, California Street
The Richmond. On the north side of Golden Gate Park, this area was settled before the Sunset. While foggier the streets are wider and curvy; some with a lot of power lines, others without. Houses are bigger than the Sunset and average 3-4 bedrooms and 1.5+ bathrooms with garage parking. Some are stately and large Edwardian/Arts and Crafts single-family homes with wood floors and some Spanish details like roof tile or stucco exteriors and single-pane glass windows. You'll find bigger fixers and more and more redone houses that blend modern and traditional. There are various guises of rental buildings, 4-unit condos or flats. Most homes will have garages; beware scraping the bottom your car with steeper driveway entries. Building systems should be good with concrete foundations for most homes and old-growth wood construction. Issues of concern: moisture control (especially western exposures), updating electrical service, in-law units, faulty-grades and drainage, sewer lateral pipes.
The People: Buyers will compete with families who have kids looking to locate in a location near to private and public schools; flipper/developers, multigenerational families, renters and income-property buyers.
Sea Cliff. Right at the tip of the San Francisco Peninsula near the Golden Gate Bridge, this exclusive neighborhood overlooks the cliffs of Baker Beach. Area views can be postcard-perfect stunning and feature the Bridge, Marin Headlands and the ocean. The sunsets are amazing specially in the fall. Even on foggy days it's still cool to see the sun sink beneath the fog and clouds. Price will depend on lot size, building size and views. The area is set off with stone gates (just the posts no real gates) and while many homes have been turned into catalog-worthy houses you will be able to snare a fixer once in a while. In any case be prepared to pay top dollar whether it's a fixer or finished. Streets are curvy and quiet. You'll find bigger, grander homes on larger parcels so you'll have detached homes too. Finishes will vary from being top-of-the-line (for the time it was last remodeled) to downright odd.
The People: Home to celebrities, old money, new money, financiers, and people with 'homes around the world,' the views and prestige draws people in. Public transit is not the primary concern when folks park their spare BMW or Tesla on the street. That said, you're also likely to see Toyotas and Hondas parked here too.
Jordan Park. Focused around the CPMC Hospital/medical center on California Street this neighborhood wedges itself between Geary, USF, the Richmond and Laurel Heights. You'll have big, angular single-family homes with Spanish-Mediterranean or Arts and Crafts details that may be detached from each other. Errant Palm trees break up the relatively flat blocks and more houses have been updated and upgraded . The houses are quite large for some reason averaging 3+ bedrooms and garages (a few have been divided up).
The People: A diverse mix of professionals, physicians, students, families and long-time residents.
Lake Street (Lake District). People who live here love it here. Like love it. While this neighborhood is further removed from the central core of the City it still has a tight-knit feel and borders Park Presidio, Sea Cliff and Arguello. The street feel here feels meandering as there are nice buildings and trees to look at. The variations you'll see range from Victorian/Edwardian 2-3 unit buildings, apartment houses, and some grand homes off the main drags. Most buildings will have garages on the street level. As you get closer to the Presidio and to Land's End you'll find some large and stunning houses. Most structures here are stucco and brick. On the inside, you'll get wood floors, coved ceilings and some ornamentation. Because of this, you'll encounter more TIC units too. Traffic can be very tight getting to and going fro as the main thoroughfare to Marin County — Park Presidio — is jam-packed as early as 3:00 p.m. on weekdays with traffic radiating out accordingly.
The People: A diverse mix of younger to mid-level professionals and long-time residents, and retirees who are more 'worldly,' to tenants in those apartment houses.
Lone Mountain. Okay, so it kind of is a mountain here. Focused mainly around USF, the area is home to a large number of sprawling single-family homes that are wider than usual. Dating from the 1940s to the mid-century era, the houses here are bigger. Many will have multi-car garages and, of course, in-law units to rent to the errant USF student. Previously more isolated, the area sees more traffic now that there's a Target and Best Buy near the ever-packed Trader Joes.
The People: Your usual mix of folks but the area seems move low-key and understated in general. '
District 2
The Sunset, et al. (Click to Enlarge)

On the Sunset:
One of the biggest neighborhoods in the City in terms of geographic size, numbers of houses and population density the Sunset occupies a different place for different folks. It can be the land of recently-immigrated Chinese families (or generations thereof), the old-school original owners who moved in shortly after WWII, the younger family looking for a house in the city, the folks with SF State or UCSF student renter in the in-law unit behind the garage or the home to the surfer crowd.
Traditionally thought of as always being foggy that rep has started to change thanks to global climate change. Buyers who discovered the neighborhood's foggy disposition is turning into a sunnier one have been buying here while you were busy looking in eastern half of the City and have driven up prices over the past few years by 50-100% in some cases. The area is flatter but once you pass Sunset Boulevard there's a gentle slope towards Ocean Beach. And homes on numbered streets with addresses in the 1200-1500 range will see Golden Gate Park more. There are great schools and surprises throughout the neighborhood.
Architecturally, one of (truer) stereotypes about the Sunset is that the houses look alike. Okay, they're not exactly alike but you can see how that rep stuck. Most of the houses are right up against its neighbors. The rows and rows of houses will usually be stucco, have poured terrazzo stairs going up to the main living level with ground-floor garage with a room or some kind of space behind the space. Building materials are almost always stucco and wood with asbestos siding in the rear. Most parcels are 25 feet wide and 100 feet deep with 2 bedrooms, 1 pastel-colored bathroom, dining-living combo with kitchen all on one level. Wood floors are common as are older gravity-style furnaces and older electrical systems that may need some attention. Also, because it's moist out here, you're likely to have some kind of pest (termite, dry-rot, or beetle) issue. Many homes that haven't been updated lately will be sold via probate or trust as fixers or cosmetic fixers. Homes that have been redone can range from the Home Depot fly-by-night fixer to some (rarer) stunning architectural statements.
So why the conformity? The Sunset was first developed in the 1920s and 1930s with the biggest push coming after WWII with the baby boom of the 1940s and 1950s. Mass construction went from east to west to Ocean Beach. The song "Little boxes," (the theme song for the TV show Weeds) by Malvina Reynolds makes reference to the Sunset and to similar homes in Daly City:
"Little boxes on the hillside,
Little boxes made of ticky tacky,
Little boxes on the hillside,
Little boxes all the same.
There's a green one and a pink one
And a blue one and a yellow one,
And they're all made out of ticky tacky
And they all look just the same."
The Outer Sunset/Parkside. Homes here are stacked up against each other and have become more popular (and expensive) as folks who are priced out of other parts of the City come here. The area has become nicer as climate change has increased the number of warm and sunny days here. Known for good schools, Ocean Beach and the N-Judah and L-Taraval MUNI lines, the area can be foggy and can be monotonous especially on treeless streets. Odd-numbered houses on numbered avenues have a chance for an ocean view and homes on numbered avenues up the 1900 block are worth more as they're located closer to the MUNI lines and Golden Gate Park. The typical configuration is 2-3 bedrooms up with 1 bathroom, garage and additional space behind with homes in the Parkside part of the Outer Sunset being smaller and more budget friendly. Watch for pest reports (it's more damp here), Federal Pacific electrical service boxes, old gravity heaters and single-pane windows, average living area: 1000-1500 sqft.
The People: Long-time residents/original owners, the surfer/hippie crowd, the younger family moving on up who may or may not have kids, the owners who want to do their houses up themselves, those interested in better schools, folks seeking condo alternatives
The Central Sunset.These homes range from 17th Avenue to Sunset Boulevard approximately. The houses here are the standard 2-bed, 1-bath variety but there are upgraded blocks with bigger footprints. Larger homes usually have 3+ bedrooms and 1+ bathrooms with more ornamentation and Med-French chateau embellishments (see parts of 25th, 33rd and 35th Avenues between Judah and Lawton for example) or are of the Edwardian Arts + Crafts style. The bigger houses will have 1500-2000+ sqft. There are some surprising views of the Golden Gate from some homes and there are many that sit on a deeper and longer parcel depending on the block. There's a fair chance these homes have been remodeled at one point (usually nicely too) and when it's foggy there will be about 30 minutes less fog a day than there would be at the beach.
The People: (Fewer) original owners, mid-career professionals with kids, the professionals who work on the Peninsula, the multigenerational family, folks with the in-law renter who use the rent to offset taxes or otherwise, renters of all types.
The Inner Sunset 1 (Closer to Lincoln and 19th Avenue). This is where you'll see rows of Victorian/Edwardian houses across the street from some mid-century monstrosity that's filled with renters who are young professionals with roommates, UCSF students (UCSF being one of the best medical and nursing schools); physicians and scientists doing fellowship or research work). There's always people walking around and parking can be tough. There's a big Asian influence in the area as well. Activity and local businesses are focused around 19th Avenue, 9th Avenue and Irving and Judah Streets. Major thoroughfares are Lincoln, 7th Avenue, 9th Avenue, Irving and Judah.
The Inner Sunset 2 (Closer to UCSF and 5th Avenue). If you're not looking at an income building or condo, you're looking at big Arts & Craft houses along 3rd through 6th Avenues, cute houses or condos on Hugo Street, which all have seen big price gains in the past few years. There is a clutch of big houses up on 8th and 9th Avenues and into Golden Gate Heights and the Windsor Heights area that feel like a bit of Tahoe in SF. These homes can be big with character and period details, woodwork and a rich, big feel. While there have been ones that have been redone, they're not the over-the-top/builder-boring whitewash of all the character that makes these houses so distinct.
Golden Gate Heights. The streets here are perched above the rest of the Sunset and Parkside and nestled next to Forest Knolls and don't have too much to look at. Most of the houses look typical of the area with some notable exceptions. On a cloudy day these curvy crowded streets with few trees make the area look a little barren. But go inside to many of these homes and look out the windows and you'll see why this area draws many folks — stunning views of the ocean and the entire neighborhood for many and views towards the Golden Gate and the north. The sunsets are stunning and the views are sweeping. This will place a premium on homes with big, big windows and (heated) outdoor spaces and decks.
THE FOGGY SOUTH EAST

District 3
Merced Heights, Ingleside Terrace & Heights, Stonestown, Pine Lake Park, Lakeside, Lakeshore, Oceanview
Dominated by SF State, Stonestown Galleria, Lake Merced, 19th Avenue and 280, housing is almost an afterthought but what housing exists is either more utilitarian or suburban but definitely more affordable
District 3
Ingleside, Pine Lake Park, Merced Heights, Ingleside Terrace, Balboa Terrace

College Students, Golfers, Fog, Cars and Surprise are the Hallmarks of San Francisco's Southwest neighborhoods that is anchored by Lake Merced, the Stonestown Mall and SF State University
Ingleside Terrace & Heights. The Ingleside area is focused around a big sloping hill that ends up at SF State and Stonestown on one end, I-280 on the other and St. Francis Wood/Portola on the other. The housing stock is mixed and tended to be more shabby than other parts of the city — think: Sunset-style, Spanish-Med, Craft-style houses with bars-over-the-windows and gates-over-the-door vibe. It used to be ensconced in fog and covered with clouds. But thanks to global climate change, price growth elsewhere and a revitalization of Ocean Avenue (there's a Whole Foods there now. A Whole Foods!) the area is gentrifying with rising prices and bars coming off the windows and gates being flung open permanently. Many houses have been carved up into rental units or rooms to SF State students and/or houses will have finished in-law units to also tap into the rental pool.
The Lakeshore area around the eastern side of Lake Merced and was one the last neighborhoods in the City to be developed. Most real estate activity primarily rooted in the 1970s, gated condo development called Lake Merced Hills that's surrounded by trees and accessed through a single road complete with guard checkpoint. The housing stock is larger but very 1970s and comes with parking, as you'll need it out here. Lakeside is tucked behind San Francisco State University, 19th Avenue and Junipero Serra Boulevard. A tidy, compact and clean neighborhood characterized by houses sandwiched in white picket fences, window shutters and rose gardens behind double-pane glass if you're lucky given all the traffic in the area. Despite its name, it is not beside a lake.
Merced Heights and Oceanview are areas many San Franciscans have no idea about. The houses are utilitarian and functional, although there is a rec center in the area. Given the proximity to BART rails, MUNI tracks and 280 there's a functional vibe already built in. Houses are mainly the Sunset-style, tunnel-entry houses with in-law units rented to students or families in other cases and are, on average, more affordable.
Pine Lake Park, adjacent to Stern Grove, is known for its Parkside-like homes (District 2) with higher prices because of enlarged footprints and layouts. Be prepared to bid strongly if you want extra rooms for the kids and a yard but also be prepared to focus on those priorities as there's not a whole lot to do once you get home around here without a car. And despite global climate changes there's still a fair amount of fog that comes and visits you.
Stonestown. This district is named after the Stonestown Galleria (aka Mall). Focused around the Mall, SF State and 19th Avenue, the fewer homes in this area were built starting in the 1940s and it was hard to tell properties for sale from dorms. The architectural style here was mainly Post-war contemporary. At least this was the case until a new batch of 182 new townhomes built on a big 7.7-acre parcel just south of the soon-to-be knocked-down Lake Merced complex known as 800 Summit came onto the market in 2014 after years of effort to put the area to use. The 800 Summit condos were built starting in 2014 and are the most suburban condo-complex experience you see in San Francisco complete with sales center, design center and floor plan options with upgrade options galore. The experiment went well as most of the development was sold before units were completed.

District 4
Balboa Terrace, Diamond Heights, Forest Hill+ Knolls + Extension, Ingleside Terrace, Midtown Terrace, St. Francis Wood, Miraloma Park, Sherwood Forest, Monterey Heights, Mount Davidson Manor, Westwood Highlands + Park, Sunnyside, West Portal
Varied Cookie-Cutter, Curvy Roads, Stucco-clad Single-Family Houses, Mid-Century Houses, Good Schools, Gates, Sutro Tower, Mid-Century Condos, Forests, Eucalyptus Trees, City College, Proximity to 280
District 4
The MIddle, et al. (Click to Enlarge)

Located in the middle of the City, these areas surround Sutro Tower and the backside of Twin Peaks, which means you'll have hilly and curvy streets that can be narrow in parts.
This area is popular with families and long-term residents who first bought their homes in the 1950s and 1960s. Depending on where a property sits you'll need to Watch out for drainage issues and/or land movement issues (however rare). Of course, because of the area's hilly topography, it usually acts as a buffer for the coastal fog we're apt to get creating a fog shadow that happens to corresponds with the warmer climes of Noe Valley, the Mission and more. Remember that the coastal fog forms when cool moist air from the ocean is drawn in by the heated land mass from the East Bay, which means that the fog is chilly and wind-driven at times!
Depending on where, these neighborhoods were among the last developed in the City because they were more removed from the flatter parts of the land and probably because some hillsides are so steep. Take note: all those trees you see up by Sutro Tower are not natural to the area. Originally, the area was covered by coastal scrub and grasses like you'd see on Mount Davidson. It was Adolf Sutro, of the tower's namesake and former mayor, who owned 1/10th of San Francisco at the time, who planted the eucalyptus, cypress and pine trees that we see today. Homes here range from having views to none at all. You may have a garage (which depends if you're on the uphill or downhill side of a street) or you may park on the street — just remember to curb your wheels. Things to be aware of in the area: foundations, water drainage systems, roof conditions and other potential issues arising from the area's potential dampness and/or forest-like feel. Be sure to familiarize yourself with the public school admission process which isn't tied to where you live necessarily. You're like to see kids and families, sport utilities alongside the shut-in who hasn't kept their house up in years.
The flatter areas off of Portola (Market Street's name once you go over the hill) like West Portal and St. Francis Wood have larger homes and are in demand because they're bigger and pricier as a result. Meanwhile, the area's proximity to I-280 makes it attractive for tech folks and the area's elementary schools are also sought after as they rank among the best in the City.
West Portal. Described by many as the 'new' Noe Valley, no one neighborhood drag is more dominated by the MUNI light rail than West Portal (the 9th and Irving one comes close). West Portal itself is a mix of 1950's-vibe local and national businesses and angled parking spaces. You'll encounter restaurants, services and one-off stores like a gold store next to a title company next to the Korean BBQ across the street from the Mexican place that has not an ounce of dust anywhere. It's one of the rare neighborhoods where you'll see families of kids and parents out and about ala Norman Rockefeller — i.e., Americana but updated for the 21st Century. The houses here are on windy, curvy streets that bound up to the Inner Parkside, which looks a lot like the Sunset. There's a mix of big houses of varying styles (stucco-clad tudor/Spanish colonial anyone?). You'll have clutches of cute, redone houses next to each other, a number of long-time (and neglected) houses ripe for a renovation and detached homes sitting on very large parcels. The vibe is a mix of long-time folks, others like students who are en route to SF State on the M-MUNI line as well as an occasional, very-lost-looking tourist. Proximity to Portola, 280 and MUNI make it popular as to do good schools. Single-family houses will range from the mid $1Ms all the way up towards $2M and beyond.
Westwood Park, Westwood Highlands, Sherwood Forest. Bounded by an increasingly posh Ocean Avenue to the south (a Whole Foods went in there and City College kept its accreditation) and Monterey to the north (Westwood Park) and northwards towards Mt. Davidson is this collection of bigger and bigger houses on increasingly curvy and narrow streets. The houses here were built in the 1920s-1950s and were of the larger kind of homes that incorporated stucco exteriors, parquet wood floors with big bedrooms, driveways and garages. It seems that this neighborhood represents a bit of Americana in San Francisco. The streets all have 'wood' in their names and the lots can either be quite large or have contorted shrunken yards that favor houses with more embellishments than in other parts of the city. Interior spaces have wood details, craft details and the kitch/cute vibe (perhaps ala Southern California?) If you venture here you're bound to see scores of porta-potties and construction crews who are renovating these houses as the first generation of owners (maybe even the second ones too) are selling out of these homes leaving it to the latest generation of owners to renovate and update. Therefore, you're likely to see pricing fall into surprisingly low to shockingly high. Why? Well, first you'll find more owner-users in this area who are willing to pay more money to buy a place to renovate because it's more than likely that the plan is to buy, remodel and hold houses here for the long haul to raise a family. In other words, a house on the market here may not come back to the market again for 18 years so gather them up while 'ye may. There seems to be a more obvious pride of ownership here than in many other neighborhoods but that may be due to the fact that many homes sit on larger parcels and are detached from each other. Homes here tend to have 3-4 bedrooms with 2-3 bathrooms and the possibility of more than 1 parking space routinely. But the area is more removed which necessitates a greater need for a car.
Midtown Terrace. You live here for space, your kids (more space & good schools) and practicality. This gets you over the feelings of isolation, fog and existential anxiety. Otherwise the houses are zero lot line, late art deco into mid-century style with some renovated, others not. And while the homes that have been redone can be very nice (a larger-than-normal footprint helps) with spectacular views, the homes that haven't may well suffer from the area's dampness, moisture-related structural issues and potentially questionable building materials (like asbestos) due to the vintage of the area. One other potential consideration to be aware of is that some of the homes are on stilts and are located on curvy streets that are otherwise steep bluffs, so you are well-advised to investigate a structure's foundation and soil conditions as some parcels do have land subsidence risks that are typically excluded from most homeowner insurance policies.
Forest Knolls, Hill + Extension, Mount Davidson. These neighborhoods snake in the areas between Gate Heights, Portola and Glen Canyon on the backside of Twin Peaks as bounded by steeper valleys. It's here where you'll see a great deal of variation. Yes, you'll have the traditional sunset-style 2-bed, 1-bath home-over-garage, but you'll also see big, sweeping houses straight off the side of a landscape lighting box. Depending on where you're at you can get sweeping views, nice sun-soaked yards (on a sunny day) with a variation in lot sizes and shapes (because of the hilly and curvy topography). Architecturally, you'll see a mix of grand, grand Spanish-stucco style houses, Mid-Century style houses and everything in between. There's a fair chance you'll encounter some fixers in the area too.
St. Francis Wood. If this neighborhood had better weather (i.e., less fog), this would rival Pacific Heights and Presidio Heights in value and luxury. But given demographic shifts towards the Southwest (proximity to 280 and 101) and a revival of Ocean Avenue and popularity of nearby West Portal, the area has awoken from its slumber. As it is, the 'gated' neighborhood is the closest you'll get to a Pasadena or San Marino in San Francisco — it even has key-access parks and a large fountain or two and the area contains single-family homes only. The homes are large, grander and detached and named after California cities with a "Saint," "San," or "Santa." Homes will have detached garages, driveways and manicured lawns and canopy trees that all exude a non-San Francisco feel (the neighborhood should be nice because each owner must pay a decent amount in annual neighborhood dues of at least $1,000/year). You'll encounter many, many styles of houses here — anything that looks expensive or was ever perceived as such in the 1940s and 1950s. This explains why you'll see Tudor-style houses mixed in stucco haciendas and Cape Cods — whatever people thought represented wealth over different eras and areas can be found here in some form or another. Some homes have been renovated while many others are awaiting modern updates after being owned by the same family for 30 or 40 years — many families can't sell either because the capital gains obligations can be crushing. This is also why you'll such variation in prices per square foot. There's also an HOA that collects the dues and hires the landscapers as well as enforces building guidelines, which may explain why you'll never see a glass and steel modern house in the area. Thus, expect to see porta-potties and contractor trucks among the benzes and that leaf blower crew.
Diamond Heights. Welcome to the Future (As Envisioned in the 1950s) If you think you're in a mid-century redwood village when you're in this neighborhood, then you're not too far off the mark. Conjured up in the 1950s and 1960s by the folks who brought us those great Eichler homes, the entire area was the first big project the San Francisco Planning and Urban Renewal Association directed (the predecessor to SPUR).
The thought here was to use modern building techniques to fit much-needed housing into the hilly topography of the area instead of simply bulldozing the area as they did in other parts of California. That and the reality is that there's a lot of bedrock in the area that would be difficult and expensive to move.
What was the result? Diamond Heights represents a very deliberate planned neighborhood with subtle and angular architecture among the trees with far fewer architectural embellishments or adornments than the rest of the City. From the large condo developments (usually studios or 1-bedrooms) on Red Rock Way, to the smattering of big single-family homes overlooking Glen Canyon or Noe Valley. Most places here will have parking, which can be seen by the prominence of garages in the area. You may notice that many homes and condos will have ceiling joists as a pronounced interior design element with carpet under your feet. You'll also likely find big-pane glass wall windows with sweeping views with sliding glass patio doors to access a patio of some kind. Along with those features you'll see low-slung stone fireplaces, electric stoves, carpet and faux wood panels. The neighborhood is both central and removed at the same time. Its relatively central location is counteracted by its higher elevation and lack of light trail tracks and bikable access. No other businesses apart from those in a Safeway-anchored strip mall exist here which may explain the emphasis placed on driving and parking or the prevalence of buses. Prices vary depending on view, upgrades and size with the very affordable to the surprisingly strong for finished single-family homes situated on streets named after minerals and other precious stones.
Miraloma Park. This heavily-residential neighborhood branches off of Portola and runs down along curvy lanes of densely packed homes with front-facing garages. The homes will have wood floors, various architectural details with single-pane windows and older systems. A lot of these homes are stucco-clad, 2-bed, 1-bath homes in the marina-, Spanish- and art-deco style with more and more being remodeled with a tell-tale darker, sleeker facade.
Sunnyside. Immediately outside of St. Francis Wood and the Westwood Park sits a neighborhood with a mix of marina-, craft- and art-deco style homes that were built anywhere from the 1920s and 1940s with the errant Victorian here and there. The area is undergoing a similar demographic turnover that Glen Park and Bernal Heights are going through. You'll see some blocks that are further along than others in having homes updated. The most common configuration here is the 2-3 bedroom with 1-2 baths, garage with about 1200-1400 sqft. And as other areas rose in value many folks took another look at the relatively 'cute' and sleepy neighborhood and liked what they saw. The area seems like an extension of Glen Park as it too is on the southern slope of Twin Peaks going down to I-280. The neighborhood's schools are good which also draws families as does the Sunnyside playground. Access to 280, 101 and to the Glen Park BART station, along with more room are also draws for would-be buyers. One thing that differentiates houses is whether or not freeway noise can be heard.
Ingleside Terraces. Did you know there was a big speedway loop that dominated this neighborhood way back when? Well it's true. This neighborhood is just south of a revitalizing Ocean Avenue. The streets here are winding and curvy anchored by detached, stylized, unique houses that are a mix of craftsman and Mediterranean styles that feels a lot like the OC than SF save the fog. But manicured lawns with cypresses, driveways and pastel-colored homes that are much larger than other parts of the City. The neighborhood was socked in with fog a lot of times but with climate change and the City's housing crunch the neighborhood is now getting more attention and you're seeing bigger and bolder fixers and flips dotting the market.
The same vibe of little big houses on curvy streets can be found across Ocean Avenue and south of St. Francis Wood in Balboa Park.

District 5
Noe Valley, Eureka Valley, The Haight, Duboce Triangle, Clarendon Heights, Mission Dolores, Buena Vista, Corona Heights, Cole Valley, Ashbury Heights (the Castro), Glen Park
Big Victorians, Victorian-facade Modern Mansions, Hills, Tech Shuttles, Stucco-clad Single-Family Houses, Edwardian and Victorian condos, Multi-Unit Victorians, Romeo and Juliet Flats, Large Victorians, New Condo Developments, Proximity to BART, MUNI, 101 and 280, Duboce and Dolores Parks
District 5
The Mission, Noe Valley & More (Click to Enlarge)

District 5 is the second most-traded district in the City. It's popular and the hot bed of where the techies, gay and lesbian population — among many other different groups — live. While there was more than $1B worth of sales in 2016, that figure nearly doubled in 2017 with more than $1.7B worth of sales. Only District 9, with SOMA, Bernal Heights, South Beach, Potrero and Dogpatch, has more transactions.
District 5 encompasses Noe, Eureka and Cole Valleys, the Haight and Lower Haight, Mission Dolores, Dolores Heights, Corona Heights, Buena Vista and Ashbury Heights and more. The area's proximity to BART lines, 101/280, MUNI lines, views, parks and its warmer weather plus a mix of demographics, topographical and architectural assets combine to make this area very attractive to buyers, renters and tourists.
Cole Valley. This small tree-lined, cute and curvy corridor along the N-Judah MUNI line is comprised of lots of 2- or 3-unit buildings, single-family houses and some very large homes (3000+ sqft) that have been divided up into apartments, condos, TIC units or preserved as enormous houses that, if restored, can be quite expensive. Focused on Carl and Cole Streets the area is wedged between the Haight and UCSF's main Parnassus campus so you'll get a younger vibe and more renters as the area has a good number of apartment buildings. Area architecture ranges from Victorian, Edwardian, California craft with some smatters of mid-century brutalism thrown in for good measure. The area is the last enclave of central San Francisco before you hit the Sunset district. There's a fair chance you'll get parking (tandem) but the lack of parking may be especially pernicious because one unit may have parking while the other doesn't. There's less new construction. You'll have 45 minutes less fog than the Inner Sunset. If you want character and charm, this area is for you.
Ashbury Heights Perched above Cole Valley to the west of the Castro is a clutch of larger, charming homes that are a mix of Victorian and Craftsman style with a little Art Deco thrown in. Single family homes are cute and some have been enlarged. Instead of full-flat condos you'll find multi-unit buildings. The area can feel a little removed as it's up a hill. is quiet. Last to get the fog for areas west of Twin Peaks.
Duboce Triangle Centered around Duboce Park with its large dog park. This was a formerly a rough area in the 1970s that is now a much-coveted one. Charming period Victorian flats (2 or 3 to a building), mix of those elements and craft details. There are three quiet streets: Pierce, Potomac and Carmelita that have the lure of single-family homes on cul-de-sacs. There are some large and spectacular specimens on Waller and Scott Streets too. People can hop on the N MUNI line here, get onto 101 easily or bike to mid-Market too. There are lots of bikes wiggling along the wiggle and there are trees, multiunit buildings and hidden driveways.
Buena Vista. Centered on Buena Vista Park's large oval shape, this area is made up of 2-3 unit buildings, a very large complex called Park Hill, and, towards Buena Vista West you will see very large detached large houses, some have been split up, while others not, some with stupendous views and others with spectacular renovations.
Corona Heights. The lower parts of Corona Heights will feature multi-unit buildings but the further you go up towards Corona Heights Park the more likely you'll encounter more houses than condos. The houses are smaller than those in Buena Vista but will have more variety. They sit on curvy, steep and narrow roads with trees. Condos tend to be mid-century if they exist. Views are likely. Be prepared for stairs and narrow floors.
The Castro (aka Eureka Valley) Traditionally an Irish neighborhood, the gays moved here in large numbers starting in the 1970s & 1980s turning the leafy neighborhood into the gayborhood. Many of the quiet wood-floored Victorians have been turned into ones worthy of catalogs; throw in some nightlife and a constant stream of new transplants all lend to create one of the most vibrant neighborhoods in the City. Architecturally, there's a good amount of variation: from carved-up Victorians that were turned into full-floor condos with some being upgraded while others still have that split-bathroom, double-parlor, oak-floor vintage feel. Chances are that you may get parking but it may be a small and tight space, have a steep driveway or is actually a leased spot elsewhere. An increasing number of houses have been restored, preserved and stunningly remodeled if not enlarged. You will find a fixer every now and when there's one around people will fall over themselves to get it. There are also a large number of rental units that have had long-term tenants which can implicate a lot of drama if folks want to displace them. The epicenter of the neighborhood is 18th Street and Castro and/or Market and Castro Street with countless rainbow flags, bars, restaurants and the Castro Theater. It's always a show here.
Mission Dolores This is hipster central that's focused on the newly redone Dolores Park and palm-tree-lined Dolores Street. Sunny and warm you'll find many a coffee shop, bike shop and hot restaurants. Prices are high. You'll get a mix of big full-floor condos, TICs that may convert and a few single-family homes will likely cost a hefty sum even for fixers. Some new larger developments were built near Market Street that sold just a couple of years ago that are now seeing first resales for very hefty returns. The other main drags are bike-centric Valencia Street between 15th and 20th Streets, 18th St from Church to Dolores, and you'll see lines of people waiting to get their Tartine baked goods or Bi-Rite ice cream or at Delfina and many more taco places as the area's Hispanic heritage shines through despite gentrification pushes. You'll see lots of tech shuttles, fixed-gear bikes, BMWs, and Vespas and charming Victorians in the middle of the Spanish Mediterranean buildings.
The Inner Mission Like Noe Valley is also focused on 24th Street, the traditionally Hispanic neighborhood has been ground central for the latest gentrification fights. What's happening? Rental properties are being turned into TICs or razed to make way for larger market-rate condominiums for techie and professionals alike. At the same time more bike lanes are coming as are tech shuttles and protests. Inventory wise you'll have old facade homes (split between condos/TICs and single-family homes) that have been really remodeled (quartz countertops, engineered woods, large format tile baths) that are sold as TICs as well as the fixer that is in need of substantial fixing. Therefore, you're likely to find TICs here more than anywhere else in the City. What's the draw? The neighborhood's weather is warm, transit — car, shuttle or BART — is good and the neighborhood's diversity are all draws.
Noe Valley Also an Irish neighborhood in the past, the area's rolling hills and large 1800+ sqft Queen Anne Victorians has become home to an increasing number of large trophy homes that have been both restored and enlarged into the Noe Valley Box — luxurious 2500-4000 sqft houses pushing the $3M-$5M+ mark depending on view, amenities and proximity to 24th Street, the area's cute main drag. Particularly focused around 24th and Noe Streets and radiating up and out, you'll find walls of glass, modern luxurious kitchens and moving roofs in these homes — just spot the updated sans serif house numbers to see which ones have had the enlargement. But you'll also find charming, large full-floor flats (some with upgrades). You'll also encounter multi-unit income properties, bidding wars for the fixers on the market and everything in between. As time goes one, expect to find fewer fixers and more perfect-looking streets in the area (each is very different though) as inhabited by tech execs who could take the shuttle to work but drive their luxury hybrid cars in so as to miss the commute and the fixers that remain will have folks who've lived in the area for 30+ years.
Glen Park Previously an afterthought between Noe Valley, Bernal Heights and Sunnyisde and I-280, the area has come into its own as a viable alternative to Noe Valley and Bernal Heights. This area has windy streets that go around the rim of Glen Canyon (so there are some hills with narrower streets) to the "village." The area's draw stems from its proximity to I-280 and the appropriately named Glen Park BART. Glen Park village is essentially the intersection of Diamond and Bosworth, which has about 10-15 stores. Expect to find homeowners who bought at unbelievably low prices to the professional class with young families who have turned these eclectic homes into pragmatic, nicely redone homes with an occasional luxury home here and there. The area blends into Sunnyside and into Westwood Park as well as Mission Terrace.

District 6
North of Panhandle (NOPA), Hayes Valley, Alamo Square, Anza Vista, Western Addition, Lower Pacific Heights, Anza Vista
Big, Big Victorians, Victorian-facade Mansions, Edwardian and Victorian Condos, USF, Divisadero, Tree-lined Streets, the Panhandle, New Condo Developments, Hippies, Bay to Breakers, Masonic, Oak & Fell, Franklin & Gough, The Painted Ladies
District 6
Hayes Valley, NoPa, Alamo Square (Click to Enlarge)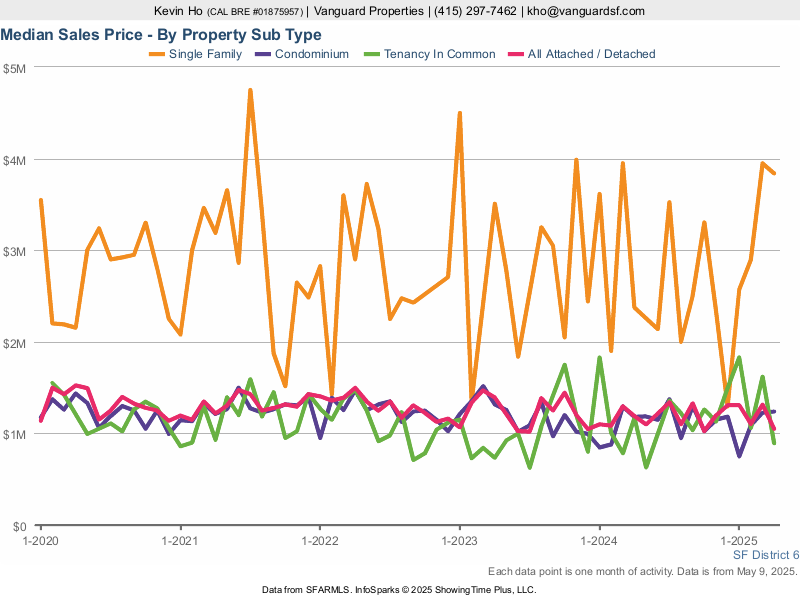 Right between Mission Dolores/Castro and Pacific Heights (two of the most actively traded and valued areas of the City) sits MLS District 6, which is a crossroads of sorts both figuratively and literally. District 6 includes Hayes Valley, NoPa and Lower Pacific Heights among more. The area is criss-crossed by major thoroughfares that bring people east to west as well as north to south across San Francisco (Van Ness, Gough, Franklin, Oak and Fell). This area used to be the western most part of the City (hence the 'Western Addition' moniker some parts of the district has) but now sits in the middle of course thanks to 100+ years of growth. There's such a mix of people and property here that you're bound to find something here you'll like whether it's modern condominium building (there are plenty), historic Victorians (fixer or completely redone) to drab Mid-Century apartment buildings. The area can be gritty and narrow or modern and wide and everything in between.
Hayes Valley. Up until a decade ago Hayes Valley was under the last part of the Central Freeway which made it dark and dingy. But after urban renewal efforts the area has become vibrant and has transformed radically going from gritty to hipster in an blink of an eye. Social life, shopping and dining is focused on Hayes Street with increasing overflow onto Gough Street. The area's proximity to the Symphony, Opera and Civic Center naturally predisposed to drawing lots of people. All this growth has brought more cars and traffic but the area generally flows well despite being the main link to 101 for the western half of the City. Architecturally, there's a mix of new condo buildings ranging from the cool and sleek feel of 8 Octavia, 450 Hayes and 400 Grove, the more approachable design at 580 Hayes, 300 Ivy and most accessible mid-2000s building called, aptly, the Hayes, at 55 Page Street. More micro-units are in the pipeline along Octavia and many of the newly built units built since 2013 have been rolled out as rental buildings (the Avalon ones for example). You may think that these bigger buildings would dwarf older ones but they don't as the way buildings were constructed in the area (along slopes or built on a higher podium) have a sense of scale and volume that combine with older trees to give the area a more established feel. Most older properties you're likely to encounter here are the Victorian flats (some updated, some not) with the charm of double-parlors, the occasional grand-scale Victorian/Edwardian single family house that stretches back onto one of the many small alleys that dot the area that served as alleys for carriage houses (and now garages). Many of the bigger modern structures here will have garage parking while many other older structures will have a separate garage facing out onto one of those alleyways we talked about but those alleys too (named after flowers) are being built up with single-family houses springing up over their carriage house roots. As the density of the area increases so does car, shuttle and bike traffic.
The Panhandle & NoPa (North of Panhandle), Alamo Square, Western Addition. Two major thoroughfares, Oak and Fell Streets, define the area. This area is filled with wood-floored, single-pane window Edwardian buildings with many that have been split up into condos with decently tall ceilings, plaster walls, and split bathrooms. The ones that have been restored may be TICs for a while before converting into condos, renovations of big houses can be stunning, expensive and more traditional: think Restoration Hardware while others can be victorian on the outside but ultra-modern on the inside. Parking tends to be tandem or squeezed into low-clearance garages unless steel beams were added. For investment buyers, there are large apartment buildings that occasionally come onto the market (usually filled with tenants) or, in some cases, a vacant two- or three-unit fixer will come onto the market.
The Haight. While technically in District, it's worth noting that this area mirrors NoPa a great deal except for there are more trees and parks. Famous for the summer of love and hippies it's more filled with techies and yuppies than before. There are lots of rental flats in carved up Victorians, big houses and condos. The lots in the area tend to be deeper and , in some cases, wider, which leads to grand houses, multi-unit buildings or mixed use ones too. Some properties have been renovated while many are fixers. Caution should be used with tenant issues, condo/TIC issues and historic issues if you're planning on remodeling.
Maps From Our Listings
PACIFIC HEIGHTS AND MORE.

POSH PACIFIC HEIGHTS AND THEN SOME

District 7
Pacific Heights, Presidio Heights, Cow Hollow, Marina, Laurel Heights
Really Big Victorians, Tudors, Villas, Embassies, Billionaires' Row, Big Condos, Views, Roof Decks, Porta-Potties, Trees, Groundskeeping Crews, The 'North Side,' The Fog Horns, Bridge Views, Renovations, Storied Properties, Old Money, New Money, Long-Time Families, Fame, Cable Cars, Scott St, Divis, Broadway, Filbert
District 7
Pacific Heights, Cow Hollow, Etc. (Click to Enlarge)

When people think luxury or expensive houses you think Pacific Heights. When you have movie shots that aren't the Painted Ladies or the Golden Gate Bridge you'll see shots from here.
Presidio Heights. A lot of times when you think of big, detached and stately Pacific Heights mansions you're really thinking of Presidio Heights homes. Tucked next to the woodsy Presidio, butting up against the Marina with vistas of the Golden Gate Bridge, Tiburon, Marin and the Marin Headlands, this is the Restoration-Hardware-meets-Architectural Digest cover homes. These are the detached homes that are either imposing (on top of a hill) or framed just so. These homes have been redone and done up (the Designer Showcase showdown homes are here a lot of times along with AIA tour homes). So why is this the epicenter of big, well-done mansions? It's got to do with demographics. The truth of the matter is that many of the homes in Pacific Heights have only just turned over to new internet money. That's why you'll run into more porta potties and scaffolding trucks over there than you will in Presidio Heights where you're likely to run into an embassy or dead-end street.
The People: The well-heeled who are never home, upwardly mobile professionals with younger families and aspiration, the established family, financiers and ambassadors and diplomats (or at least diplomatic plates)
Marina/Cow Hollow. This is the land of the 'blue-shirt army' the just-out-of-college or MBA-in-hand-just now crowd that lives here and take the 1 California Express bus that brings these legions of financial/services sector workers to the Financial District on weekdays. You'll find spacious houses, art-deco era condos, and a score of rental buildings with garages on the bottom floor in this maritime neighborhood that has 2 main shopping drags (Chestnut and Union) and Lombard as your big thoroughfare. Living here is about the outdoors and night life to an extent. Views, if you get them, are of Alcatraz, the Marin Headlands and the Golden Gate Bridge. You'll get fog earlier and the area is avoided a lot of times because it's built on fill from the World's Fair. Many of the properties here will be investment income properties with 2-5 unit buildings filled 1 and 2 bedroom rental units. The units will have single-pane windows, dated bathrooms (circa 1930 or 1980), a double parlor layout with hardwood floors, Spanish-style stucco buildings with some embellishments with garages underneath
The upgraded versions of these former rental units make up the condominium inventory here. Usually the condos have thicker (and darker) hardwood floors, nicer cabinets with a Bertazzoni (maybe even Viking) gas range, stone countertops, recessed lighting, a higher bedroom-to-bathroom ratios, marble-laden bathrooms with plush finishes, plantation shutters and carpeted bedrooms. You're bound to find a coved ceiling or two too. in These condos tend to start in the $1.2M+ range going all the way up to $3M-$4M+ depending on views, room count, finish level and/or amenities.
Pacific Heights is the granddaddy (or grand-mommy?) of San Francisco neighborhoods. People think of decades and years here instead of months and days. There are plenty of homes that can trace their ownership lineage to the time when X family came to the City from the East Coast where X made their fortune in something. That pattern has repeated itself of late as the area has become home to many a tech-derived fortune. Houses are large and opulent and vaguely East Coast-meets-London. The scale of properties here is what sets them apart from many other parts of the City. You'll see many a porta-potty here as renovations take a long time as there's more house and more to do as the homes that haven't been touched in years can be cavernous, drafty and creaky. Lots of changes (some elective, some required) are needed in a Pacific Heights fixer but the resulting product can be over-the-top and is likely to be refined, restrained and tasteful — or so we hope. More tawdry renovations at these price points tend to take place on the Peninsula as most developers, architects and homeowners like to show off the views you're likely to get here. And yes, you're paying for location, prestige and views.

ALL OF THE HILLS AND TOURISTS (AND THE TENDERLOIN)

District 8
Russian Hill, Nob Hill, Telegraph Hill, North Beach, North Waterfront, Tenderloin, Downtown, Financial District, Van Ness, Civic Center, Barbary Coast
Stately Facades, Mid-Rise, Stone-Facade, Big Victorians, High-End Condos, Sweeping, Views, Coit Tower, Victorians, Bay Windows, Fog Horns, Single-pane windows, Upgraded Foundations, Small Alleys, Cable Cars, Bridge Views, Tourists, Soft Story, Foundation, the Most San Francisco area of San Francisco, SROs, Co-Ops, Door Person Buildings, Steep Hills, Homeless, Tourists, Long-Time Renters, Chinatown, Newly Landed Professionals, Columbus, Hyde, Francisco, Lombard, Mason, Powell
District 8
Pacific Heights, Cow Hollow, Etc. (Click to Enlarge)

This is one of the most varied of neighborhoods in the City. From the ultra posh Russian Hill or Telegraph Hill to the grit of the Tenderloin. Various building and planning department restrictions constrain how much these neighborhoods can ever change. From historic preservation regulations in the Hills — Nob, Telegraph and Russian — to the anti-condo development laws regulating SRO buildings in the Tenderloin you get hardcore entrenched San Francisco-ness in District 8.
Telegraph Hill is iconic, postcard San Francisco focused around Coit Tower. In between cable cars tourists, windy and narrow streets, you'll get a mix of stucco-clad, bay-window buildings filled with luxury condominiums, apartments the occasional TIC unit along with stately homes of famous people. You'll have stunning renovations mixed in with dilapidated buildings on the major streets and a propensity to have little alleys and dead-end streets. There are lots of multi-unit rental buildings with just-minted MBA finance types, to buildings that house very long-term (i.e., protected) tenants in various states of disrepair. While garage parking is the norm here so is a shortage of parking. Rents are high because these are the neighborhoods moviemakers focus on.
Russian Hill is also iconic San Francisco. The homes here are a little more spread out and there are some of the City's early high-rise buildings located in the neighborhood (several of the City's 13 co-op buildings are in Russian Hill). The streets can be steep, narrow and windy — the crooked part of Lombard Street is located in Russian Hill. While condominiums and co-ops are the norm here so are opulent single-family houses. Like the other hills you're getting panoramic views, prestige and location (if you need to be close to the FiDi of course).
The Tenderloin/Van Ness Like the meat cuts of the same name, this neighborhood is indeed tougher and rougher. Euphemistically known as Lower Pacific Heights or Lower Nob Hill (sometimes the Tendernob) the area is permanently gritty and shadier. Why? Big building shadows, soot from area traffic because there's a high frequency of heavily traveled one-way streets going east-to-west and north-to-south here (e.g., Larkin, Geary, Van Ness, Ellis, Eddy, Taylor, Bush, Post, Sutter). The area has long been associated with the seedier elements of society. Any mention of the area must also note the large homeless population too. It's tough. That said, there is real estate here too. There are newer build condominium buildings here (see Civic Center) along with old-school buildings like the Belgravia scattered throughout the area that surprise as well as puzzle in this most urban of areas.
Civic Center is a very modern model urban forest. Being anchored by Van Ness Ave. the soundtrack here is of car horns, revving engines and reverse beeps. Most homes here will be a condo or stock co-operative (co-op) with views of, well, other tall condo buildings. Many condos will have a decidedly pre-war feel but yet many others are of newer construction with varying degrees of views. Most will have at least a secure entry lobby with some having security guards. Parking, if you can find it, will be underground. The area itself is full of cars, artists (the symphony, opera and ballet are here), lawyers (state and federal courts are located here along with SF's city government), tourists and homeless people. You may get swept away by the odd wind vortex that's created by Van Ness near Grove Street. If being close to mass transit, the arts and a certain grittiness is your cup of tea, then this urban jungle of neighborhoods will be just right. Sutter's new Cathedral Hill hospital along with a few other adventurous car dealerships are leading a Van Ness corridor revival. Notable buildings in the area: One Daniel Burnham Court (senior-focused units and circa 1980s feel condos), the Artani (2008 vintage modern LEED-certified condos),the Marquis (industrial timber and brick lofts circa 2002), Opera Plaza (1970s brutalist architecture condos gone a wry) and Blanc SF (circa 2014 new-build condos designed, in part, by Stanley Saitowitz) and new build ones like the Rockwell coming online soon.
Union Square. This is the most New York-like living you can have in the City that's located in an area where you can hear honking and hail a cab. If you can find housing as the area is known for its tourists, shopping, holiday ice rink and proximity to the Tenderloin. Spaces for sale can be hidden gems, but you're far more likely to find commercial properties here. There are a few named condominium buildings here (e.g., the Odeon, the Royal) that have units with views (usually of other buildings or a busy street) and parking is at a premium.
SOUTH BEACH, BERNAL, POTRERO AND THE LIKE.
SOUTH OF MARKET — SOMA AND EVERYWHERE ELSE

District 9
South of Market (SOMA), Inner Mission, Bernal Heights, Potrero Hill, South Beach, Mission Bay, Dogpatch, Yerba Buena
Skyscrapers, loft, warehouses, traffic, tech, South Park, AT&T, Bernal Hill, UCSF, 280/101, 24th Street, Precita Park, Bernal Hill, Media Gulch, SF General, Holly Park, Burritos, Tech Shuttles, Gentrification, stucco, sunshine, BART, Mission Street
District 9
Inner Mission, SOMA, Potrero, Bernal, Etc. (Click to Enlarge)

One of the largest and most diverse of districts, District 9 runs the gamut from luxury skyscraper penthouses with door people, high HOAs, amenities and valet parking to tiny bungalows, creaky Victorians that are falling apart, lofts, stunning hillside mansions and more.
What's common to the area? Well, it's sunny, closest to the freeways and mass transit (BART and CalTrain) and home to the emerging biotech sector, AT&T Park, the future Golden State Warriors stadium it's no wonder why it's one of the most-traded of the districts and the most travelled and trafficked. The people who live here range from renter, owner, tenant, landlord, lifers to just arrived, hipster, activist, baseball star, jet setter, the elderly, kids, techies who code to people who've never touched a computer.

The Inner Mission. Like Noe Valley is also focused on 24th Street, the traditionally Hispanic neighborhood has been ground central for the latest gentrification fights. What's happening? Rental properties are being turned into TICs or razed to make way for larger market-rate condominiums for techie and professionals alike. At the same time more bike lanes are coming as are tech shuttles and protests. Inventory wise you'll have old facade homes (split between condos/TICs and single-family homes) that have been really remodeled (quartz countertops, engineered woods, large format tile baths) that are sold as TICs as well as the fixer that is in need of substantial fixing. Therefore, you're likely to find TICs here more than anywhere else in the City. What's the draw? The neighborhood's weather is warm, transit — car, shuttle or BART — is good and the neighborhood's diversity are all draws. There are newer condo buildings towards Potrero, loft buildings like the ones near Hampshire and 18th Streets as well as the big brick and timber lofts on York Street as well as the big Union SF development around 20th and Bryant. The Media Gulch enclave near Alabama,19th Streets and Mariposa Streets has been led by the likes of Heath Ceramics, Slow Club, Coffee Bar, Sightglass, Mission Cliffs, Universal Café, Flower and Water, and with new businesses opening up every day there's plenty more coming.
Potrero Hill 1 (flats). This area runs along 16th Street to about 18th Street along the area's main drags — 18th, 17th and 16th Streets. In the flats you'll see a mix of trades-related warehouses interspersed with historic loft conversion buildings, newer stock condominium buildings (1001 17th, the Onyx) and a very large condo development building at 17th Street and Kansas (The Potrero) that are complete with its very own Whole Foods and the large series of buildings along Carolina Street.
Potrero Hill 2 (North Slope). As you go up the slope you'll encounter a mix older Edwardian two-unit buildings, marina-style houses, Victorians with fewer that have been renovated but the ones that have can be breathtaking or have breathtaking views. There is a good crop of circa 2007 vintage remodels in the area for some reason too with colored-glass pendants. This area focuses around 18th Street with its little shops, restaurants and venerable Goat Hill Pizza. The area is sought after for these single-family homes and split-up Victorians as many will have character and views of the City's skyline.
Potrero Hill 3 (South Slope). On the other side of Southern Heights is the South Slope of Potrero Hill. You have a sunnier, drier part and a more desolate feel because the views are usually of 280/101. The streets are broader and there are big Victorians, some Edwardian condos and duplexes all sloping down. But as you get to 25th the freeway noise, and the slope downwards towards the infamous Potrero housing projects that have been identified as the next big redevelopment site which will feature a more mixed-income, less-dense focus that has worked at 25th and Harrison and at Valencia Gardens at Valencia and 14th Streets. Part of that redevelopment will also feature new market-rate condominiums too.
China Basin/Mission Creek is really just made up of one street — Berry Street — but the area is home to lots and lots of people as the area has been filled up by large bulky condo buildings bounded by 280, Mission Creek (which still stinks at low tide) and CalTrain and AT&T Park. The condos are modern, large, and somewhat generic. Why are they appealing? It's a little bit of Tampa or suburbia in San Francisco as most units will have at least 2- to 3-bedrooms with 2- to 3-baths and there will be more consistency in the inventory as they were built off of the same mold. The most energy efficient building is the Arterra which manages to have a 24-hour front desk staff, gym, parking and common area rooms while having low HOA dues is because of the LEED elements the building incorporated when it was being built in the 2008-2009 era. The latest development, the Arden, expands on leitmotifs from its sister buildings in Mission Bay (the Radiance and Madrone) by having light, double-pane windows, recessed lighting, drywall and professional management. Most the buildings will likely have parking (at least the 2-bedroom units will) and most having a door attendant downstairs with key-fob entry. You're likely to see a lot of investors here as the City's comprehensive Rent Ordinance doesn't apply here meaning no rent or eviction control.
Mission Bay the former dredged bay/dumping ground has been reclaimed by UCSF with its massive research buildings, Women's & Children's' hospital and broad avenues. the area is flat and has great views of SF's skyline. Many of the buildings here are high-end rentals with two notable exceptions built by the mogul Bosa family called the Radiance and the Madrone. These feature large condos with higher-end but generic finishes.
Dogpatch was home to the City Attorney and to the Hell's Angels for the longest time as the area languished after the area's Pier 70 shuttered. The area has revitalized over the past 10 years with loft condominiums leading the way, the addition of the T-Line on 3rd Street and now with the promise of Pier 70's ballot-measure approved revitalization project. While you can take CalTrain down the Peninsula you'll likely drive on 280. And the area's soundtrack is the sound of rubber meeting 280's pavement. You'll find loft condominiums from the 2000 and later vintage. You'll see wood floors, brick & timber, modern build condos with more rooms and space with minimal amenities but with parking. The Hell's Angels and City Attorney still live here.

South of Market (SOMA) was the original home to the urban lofts in San Francisco. Starting in the 1990s the areas warehouses and vacant lots were filled in by, well, loft condominiums on the area's small alley side streets. First emerging in the 1990s as "live/work" lofts where anyone living in these units also had to have a business license from the City (lots of 'consultants') they've evolved over time growing more elaborate and more luxurious. There are some stunning examples of brick and timber renovations like those in the Oriental Warehouse at Delancey and Brannan Streets down to the Clocktower, to modern concrete/harsher designs 855 Folsom to more generic, more modern ones. Starting in the late 2000s with the Palms at 4th and Bryant the area has now moved solidly into the mid- to high-rise luxury developments that are named or are known by their addresses: 829 Folsom, 200 Delancy, 175 Bluxome, the Portside, Bridgeview, etc. Traffic from 1st to 6th Streets on weekday mornings until 10am and starting again from 4pm until 7pm is nightmarish especially if there's a baseball game or an accident on the bridge; yet, on weekends its super quiet. Within this area is Mid-Market/Central SOMA, from 6th Street to 12th, where twitter, square and other .coms have setup shop (thanks to the Mayor's payroll tax incentives) alongside local arts organizations and more and more luxury condominium buildings (some being rental ones like the NEMA). The juxtaposition between gridlocked cars (despite big one-way streets), people walking to work from CalTrain or BART with ironic t-shirts and the homeless population this area is undergoing rapid development/gentrification with prices rising as more inventory is built. The issue is that many of the new-build condominiums are far more of a commodity because they are so similar to each other (although having parking is key as the City doesn't require a 1:1 ratio of units and parking spaces).
South Beach. The land of high-rise condos, some luxurious, others ultra-luxurious with amenities and high HOAs that seem to be springing up like weeds. Also home to mid-rise buildings that house baseball stairs, corporate rentals in a streetscape filled with construction cranes, baseball traffic and commuters. Even though there are views of the Bay Bridge and the East Bay it still feels like the most generic part of the City. Traffic has gotten worse and worse as the economy picks up and as more skyscrapers are being built. Some marque buildings here: One Rincon Hill, the Harrison (aka, the second tower), the Infinity and the Lumina among many other buildings opened as rentals but may well be turned into condominiums sooner or later.
A Bounty on Bernal Heights

Being named as Redfin's Number 1 neighborhood in the country recently, this eclectic neighborhood is bisected by Bernal Hill — the favorite stomping grounds of our four-legged friends who bark from time to time — into the North Slope and South Slope. And the South Slope has a natural division at Cortland Street, the main commercial street for area. To the west in that area is Holly Park and to the east you'll closer to 101/280. Prices have surged of late and it's common to see single-family houses with 3-bedrooms and updated bathrooms with parking close above $2M (March 2016). Because of the variety we've really broken if down the areas:
A + H. Manchester Hill/Coso flats (otherwise west of Folsom). More rental buildings than rest of area, close to Mission and Cesar Chavez. Some nice properties but there are rentals and rundown ones too. Mixed inventory on a series of one-way streets that are narrow steep; many homes have no parking.
B + C. The North Slope — just south Cesar Chavez this micro area is anchored with Precita Park at the base of the slope all the way up until you get to Ripley. Houses with views of the skyline are the ones that command the most value. Some houses are done and redone while others are still vintage or are in need of updating. Beware tenants and/or potentially odd construction and illegal in-law units.
C + D + E. Peralta/Mullen Very quiet, steep hills/narrow streets. Mix of old random bungalows and remodeled, chic homes. Some views — partial to full. Biggest price mix with some great homes and fixers. Potentially amazing views or Midcentury wryness/quietness almost desolate for the areas near eastern tip of Bernal Hill; steppe-like. In between two hills and removed from amenities with eastern/southern views
H, I. Virginia, Fair and Prospect Close to Mission but quiet and tree-lined; curvy streets. Quiet and cute. Some houses have been remodeled while others have not. Mix of prices.
G. Cortland Corridor Cute neighborhood feel. More homes to have been remodeled recently but many haven't so there's a bigger mix, more dense. Some real stunners, gems and diamonds in the rough. North side more valued than south side because of views

E. Holladay Quiet area, more removed and eastern views but 101 is right below elevation; freeway noise. All houses were picked up and moved here in the 40s/50s/60s when freeway was built. Lower prices.
J. Nevada/Ogden — South of Cortland, a bit run-down, fewer and smaller homes but some have been remodeled but the ones that have been can be amazing; south of Ogden, close to 280 (with the perpetual soundtrack from those cars), there are literally some cars on blocks south of Ogden in front of hodge-podge, DIY renovations that are questionable. In other words, lots of potential.
L. Richland/Crescent — Near to Holly Park, was a previously a rough neighborhood but the area is starting the process of gentrification with values starting to rise and houses growing nicer. Hard to tell between quality renovations and so-so ones until you go inside.
I. Holly Park (Mixed) Cuteness — cute houses, many haven't been remodeled yet. Quiet. Holly Park. Fixers will be in demand. Higher prices for done homes, but quality will depend on which part of circle you're at. Housing project toward western part; fire station at Southwest corner.
L. Mission/St. Mary's Park — Close to Mission Street and Crescent. Lots of freeway noise from 280 nearer to Justin Street that can feel isolated because it's not quite Bernal but not quite the Outer Mission. Areas closer to Alemany are more rundown as the road gets closer to the freeway; as such there is lighter demand and lower prices.
THE TRENDING SOUTH (FINALLY)

District 10
Mission Terrace, Silver Terrace, Excelsior, Crocker Amazon, the Portola, Outer Mission, Bayview, Hunters Point, Visitacion Valley, Candlestick, Little Hollywood
Mix of architectural styles: Victorian, Sunset, Marina Styles, Stucco, Fog, Collegiate-named Streets, McLaren Park, fewer homes with bars over windows and metal gate doors
District 10
The Portola, Crocker Amazon, Bayview, Excelsior, Etc. (Click to Enlarge)

This area is hot! Literally (as it's the warmest part of the City as it's furthest from the ocean) and figuratively (prices have gone up a great deal). The price increases elsewhere have forced folks who want more value look in these areas.
Portola (portal-luh, not poor-toll-la). These homes are clustered around a senior home near the reservoirs that is known as University Mound. This is apt as the houses on streets named after colleges (e.g., Harvard and Cambridge) are potentially cute and charming and quiet. You'll find folks who have lived here all their lives, multiple generations of residents in the archetypal Sunset-style homes that abut McLaren Park which itself has just been renovated. The area is quiet and sleepy but just like other overlooked parts of the City is now getting attention from folks who've been priced out of other neighborhoods.
Mission Terrace. You will find surprisingly large homes that have been remodeled on quiet streets with manicured lawns here with the Spanish-Mediterranean theme. There is opportunity here though as more fixers are coming to market but everyone else seems to have discovered the area too. There are lots of little enclaves or clusters of very cute houses (say, 3 or 4 of them) that are well-taken care of and manicured. The homes have character although remodeled ones can vary in quality, finish level and taste. Younger families and same-sex couples have moved here (like they have to Glen Park, Sunnyside and Bernal) because of the opportunity to get more value in a neighborhood that has access to 101, 280 and BART.
Silver Terrace/Excelsior. The homes here look a lot like the homes everywhere else in the City — a lot of marina-style 2- to 3-bed homes with garages mixed in with the occasional Victorian house. The thing different is that you're likely to see more window bars and front metal gates. You'll see streets named after world cities and countries (Persia is one of the true tree-lined boulevards in the City) and you'll see more people parking their cars on the sidewalk, more houses in need of repair and encounter single-family homes that have been carved up into unwarranted rental units. That said, you're seeing more and more redone homes in the area with finishes and prices that are surprising as developers/flippers are banking on the area being gentrified much like the Mission, Bernal and Sunnyside. The areas off of Carol have some truly winding streets and the sunset-style houses are jammed up against each other. Views are of the Bay, piers and 280 and 101. Time will tell how this area will fare as this last bastion of industrial activity in the City gets bought up.
Bayview. Gaining more than 50 percent value over the past few years, the area is the sunniest in the City and looks like every other part in terms of the mix of marina-style houses, Victorians, 2-unit buildings and everything in between. The area was notoriously rough in the past especially at 3rd Street and Palou. But with the 3rd MUNI extension and the rising prices elsewhere (plus the development of the shipyard) the area has become popular for gentrifiers and developers alike. There are big, large and newer condo developments at 5800 and 5900 3rd Street and the big, big, multibillion developments at the Shipyard at Hunter's Point as well as the redevelopment at Candlestick. The clearest sign that the area is getting hot is the presence of a Blue Bottle Coffee within garden store favorite Flora Grub at 3rd and Jerrold.