Evaluating San Francisco properties, spotting a property's potential and how remodeling works in SF
(generally speaking).
Evaluating, Updating and Renovating San Francisco Properties
(psst. if it were easy and cheap, everyone would be doing it)
This page has, by far, proven to be one of our most popular pages on the entire site. It figures because this is essentially the page where you get to see San Francisco real estate through the eyes of two the City's top agents (and their dog — you never know what things Raffi will detect that we humans can't (really, there was one listing we had that was bad enough for Raffi to turn his nose up to; take away lesson: make people sign a waiver before coming in).
We'll go over the basics and then move into the possibilities in terms of how you can add to a property's value through minor updates to whole-scale, blow-out renovations with neighbors, change orders and the whole spread. How the approval process goes with San Francisco supposedly building some 80,000 new housing units by 2030 remains to be seen, but the hope is for it to get easier as we know how terrifying it can be. See the news articles referenced to the right if you had any doubt.
When Buying A Fixer...
A general understanding of how houses work is something you may want to have when buying such a valuable asset.
And given that most of the housing inventory in San Francisco is older, knowing what to look for behind the staging, under the paint and in the basement, for example, should help you understand if there's work to be done or underlying issues (despite what the marketing says) thats should go to help inform you of what a property is really worth. Conversely, the fact a property needs attention, deeper awareness will work to our advantage because other folks may be unwilling to take on issues that may really be only minor ones in the grand scheme of things. Here's a quick overview of some of the issues and questions we see often ...
Worst Case Scenario 1:
From the SF Chronicle:"627 days, just for the permit: This data shows the staggering timeline to build homes in S.F."
Worst Case Scenario 2:
From the S.F. Chronicle: "A $1.75 million S.F. home became one couple's 'House from Hell.' Now they're giving up on the city"
But It Might Get Better:
From the S.F. Chronicle: "Gov. Newsom launches unprecedented review of San Francisco's housing approval process"
Things you want to ask about a property before buying it:
How big is the parcel?
(Will determine how lot coverage a structure can have to protect light and air requirements as well as fire safety access)
How old is the structure?
(Will determine rent control/eviction control issues, building materials that were likely used, whether certain protections for construction defects will apply, if historic review or preservation regulations apply)
What type of foundation does it have?
(Brick, masonry, concrete, none? How deep are the footings? What are footings?)
Is the property on a slope or hillside?
(Will impact insurability, need to do soil and grading work, liability to neighbors)
Is the property in a historic district, if so, what type?
(Will impact ability to remodel, potentially impact property tax rates)
What's the property zoning and what authorized use(s) are permitted onsite?
(Will impact expansion potential, density allowances, light and air requirements, parking allowances, if change of use is desired, what needs to be done to do it, if possible)
Is the property in a seismic hazard/tsunami/forest fire zone?
(This one should be easy, right? Also, add in insurability)
Does it smell damp?
(Could indicate leaks, mold, water table, drainage issues)
What condition are the systems in? (Structure, plumbing, electrical, heating/cooling)
What do neighboring properties look like? How much of the parcel do they cover? Are they taller?
(Will help determine ability to expand)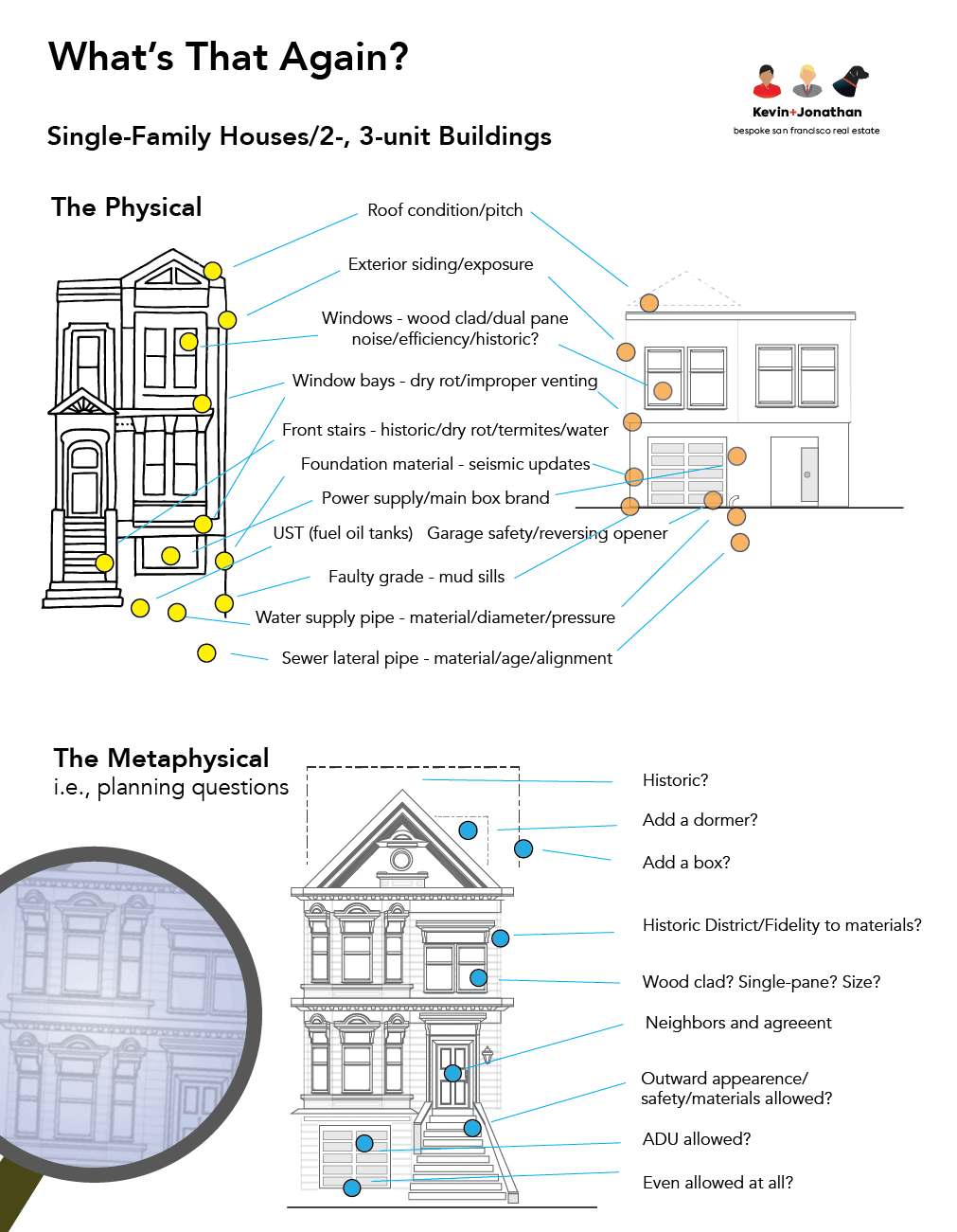 When You're Into It
What Do the Inspection Reports Say?
These documents can be extremely helpful and insightful when considering upgrades and updates that are needed
Deciding how much of a potential property renovation will be of the oh-la-la kind (tile, hardware, lighting, kitchen cabinets, counters, upgrading and updating finishes) or the ho-hum, safe but invisible kind (seismic upgrades, water heaters, roofs, lateral pipes, or dry rot repair) can be hard unless or until you break open the walls. And, after that, you will then learn information from the neighbors that may alter that ratio of fun vs. required renovations.
Inspection reports, ideally ones that sellers received when they were buyers or even earlier, are useful tools to track what conditions have been like in the past, what work or repairs have been done and what systems that look like they need maintenance or replacement sooner rather than later (roofs, fences, retaining walls, heaters, power amperage, lateral pipes). Track issues and compare observations. Of course, if you're our client, we would have probably done that for you and/or will highlight where and what you need to read. And we'll be able to offer you our perspective and those of our network of contractors and experienced professionals in their fields like architecture and structural engineering before you make a final decision about a property if you're a buyer. For a seller, these reports and current reports will help paint a picture for a would-be buyer that you will supplement with information you disclose that's both required by law and the right thing to do, even if it means a diminished sale price it is far better (and cheaper) to be fully honest now than to be sued later.
Case In Point: We Know What We're doing
Knowledge Put to Work
From our clients' review of their successful sale of a 2-unit building on Scott Street in Duboce Triangle.
From the beginning stages of brainstorming ideas, to the execution and final sale, Kevin and Jonathan were with us every step of the way. They knew exactly what needed to be done and who to talk to, whether it be design, painting, hiring contractors or staging. They had a wealth of resources, all extremely skilled and competitively priced. I travel all over the country for work and Kevin and Jonathan will actively help you manage your property during the construction process. Kevin himself did work at our place (changing our shower head) and also met me at different stores to pick materials multiple times. They were also incredibly knowledgeable about the market and what potential buyers would be looking for. Kevin was especially helpful with pointing us to the best "bang for buck" renovations to improve the look and feel of our property. They can help you allocate your budget and know where to spend money and where we can pull back.
— LJ and L., Sellers, 2-Unit Building, Duboce Triangle/Haight who gained $700,000 worth of value in about 2 years by following our advice.
Certain numbers are arbitrary will others matter greatly. When it comes to houses most people badly misjudge ceiling heights, room sizes, yard sizes, etc.
A Matter of Perspective: You may think you need 10-ft ceilings, 12 feet, more! But you only ever need 8-ft tall ceilings. As ceiling heights get taller it starts to matter how wide a space is in terms of the overall feel, so in many cases an 8'5" ceiling height may feel like 9 feet (or like 7 feet in other situations). In most cases in San Francisco, an 8'5" ceiling height will feel like a 9-foot tall ceiling. When you go over 9 feet, in most older San Francisco homes, the jump can feel exponential where a 9'5" ceiling height feels like a 10-foot tall one and so on. By the time you get to some of the old grand Victorians with actual 11-, 12- and 13-foot tall ceilings it feels absolutely cavernous! Ah, but a good thing people do (and did) is to drop the ceiling height you see while running heating ductwork, plumbing, gas lines and install recessed can lights in that extra space. Having a hollow ceiling may also give rise to increased sound dampening by the virtue of being dead space or where you can install sound-dampening (can't say sound-proofing) measures like insulation, extra layers of sheet rock or RC channels.
Question. Renovating a home in San Francisco versus buying a done, done, done home—which is easier/costlier/better?
This, of course, is a loaded question. On the one hand if you renovate you get to pick finishes and pay for your own choices, not someone else's. But you're going to need time (at least 2 months, if not 2 years), patience, and money. Nothing is ever guaranteed and prepare for the unexpected. Ripping out walls and floors and ceilings can reveal a whole slew of unexpected surprises. Most surprises in the City come in the form of: structural deterioration from termites, dry rot, fungus or inadequate engineering; outdated systems like electrical (knob and tube, Federal Pacific boxes) and plumbing (galvanized pipes and sewer lateral connections); patchwork past renovations; foundations, and past use of asbestos-containing materials. This is not to mention the requirement to build to modern codes. Quite naturally, San Francisco has its own Building Code. Another radical element: discretion or whimsy of neighbors (both owners and renters) up to 300 feet away, inconstant city inspectors and planners and haphazard, legislate-as-you go regulations. Thus the only thing that is certain is that there are no guarantees in San Francisco as the process is so subjective with various choking hazards on the way. The rewards are, however, pretty impressive.
Labor vs. Material Costs?
Figure that the costs of any remodeling work done will be half and half but this depends on expertise of the tradesperson involved and/or the availability of the materials/finish selected.
Quick Rankings
Of brands, appliances and home improvement stuff.
(As based on our experience, hearsay and research)
Top Kitchen Counter Materials
Manufactured Quartz + variations ($30–$100/sqft)(Cesarstone, Silastone, Cambria, Neolith)
Sealed Granite (same)(careful with the edge profile)
Recycled/Broken glass ($40–$130/sqft)
Laminate ($10–$50/sqft)(Formica brand and 3M)
Tile ($2–$60/sqft)(porcelain vs. clay)
Worst (Not Recommended)
Marble (stained easily, too porous)
Bamboo (porous, stains easily, warps, water-wicking)
Top Dishwasher Brands
Bosch ($500-$1700)(price goes up by finish metal and dB reduced, less than 46 the better, CR loves the Ascenta line, then the 100 series, 300 series and 800 series, in that order)
Thermador ($1500+ to start, CR likes the DWH66 and 65 lines))
Samsung
Miele ($1200+)
Whirlpool ($400-$500)
KitchenAid ($1200+)
GE
Kenmore
LG
Not So Highly Rated
Viking
Electrolux
Fisher & Paykel
Frigidaire
(according to Consumer Reports 2022)
Top Refrigerators
French Door Style: LG, GE, Samsung
Built-in: Thermador , Jenn-Air, Viking, Dacor, Subzero
Side-by-side GE, LG, Whirlpool, Samsung
Top Rated Ranges (Gas!)
Pro-Style Gas (30 in): Monogram, KitchenAid, Thermador, Viking, Wolf, Bosch, Miele, Fisher & Paykel; (36 in): Electrolux, Viking, Jenn-Air
Regular/slide-in Gas Ranges (30 in): GE Profile, Cafe, LG, LG Signature, Samsung, KitchenAid
Induction Ranges: LG LSE, LG Studio, GE Profile, Samsung, Frigidaire Gallery
(According to Consumer Reports 2023)
Okay, Say You Have to Remodel or Repair The Property You Want (or Own) How much will it cost? (Here are some really rough estimates)
(Our Guesses as of 2022-23)
(click through the arrows)
Advice On Working With Contractors, Your Contingency Fund
When hiring a contractor you'll want to shoot for a flat rate approach versus a time and materials (i.e., hourly) agreement with your contractor/subcontractor so you are paying for the result and not for inefficiency.
The fewer change orders you have the better. The more materials you can source yourself and have delivered directly to you the better, but remember you'd be the one making mistakes, dealing with supply chain issues and physical damage en route to the site.
Project management is essential as one of the more frustrating part of the entire process is seeing the property sit idle or vendors flaking out or being hired away because of delayed supplies and materials. Factor in wait times in your calendar and then add even more time and alternatives.
Your Contingency Amount is too small. Instead of keeping an overrun contingency amount of cash the standard 10 or 15 percent, set aside 25 to as much as 40 percent extra to account for surprises, ever increasing delays, redesigns, revisions, inspection issues, mistakes and splurges.
From our own experience in 2020 and that of many of our clients, when it comes to major remodels it seems that every subcontractor seemed to charge $30,000 to $40,000 (or more) no matter what was being done. It's as if there is an inflection point where differentiation becomes irrelevant until you reach another, higher level of work needed. In 2022, it seemed that every trade charged anywhere from $40,000 to $60,000 on a given remodel of a house in San Francisco.
To get a ball park figure of how much your renovation may cost, all you would do is to apply the logic from above to at least 6 major trades at bare minimum. The reality is that each of the following areas should be added into the mix: Floors, Drywall, HVAC, Electrical, Tile Installation, Cabinets, Appliances, Tile, Counters, Glass, Stair installation, Deck replacement, Trim and Detailing, Windows, Shear construction/engineering, Architectural and Structural Engineering Fees, Permit Fees, Material Costs... and..., From that limited thought exercise you can see that renovating a home down to the studs will implicate so many different vendors and areas.

Early planning, coordination, product and material hunting online (Amazon, Wayfair, Build.com, and even EBay) and at local stores (the big box retailers and other places with floor samples, or reclamation/salvage places like Building Resources in San Francisco or Urban Oar in Berkeley) can really lead to cost savings but will take up a lot of time too.
Material Wait Times
Now that the Pandemic introduced the concept of supply chains into most people's vocabularies, we're starting to see things come back to normal.
Most Bay Area mass-market vendors (see right) will have most building materials in stock. But be smart about it too.
Amazon's abilities to get building materials using their impressive delivery network, to Wayfair's shipping-is-free delivery model has changed things up.
When dealing with Home Depot, for example, be sure to check other Home Depot Bay Area locations as certain stores will have different inventory. Colma has two Home Depots — regular and pro, which compliment the Daly City one that supposedly has more 'design-y' stock (Colma has more of everything in general, the Pro store is so much better for detailed and specific building materials), whereas the Emeryville Home Depot's landscaping department is just astounding. Suburban locations have even more!
Along with your Home Depot, Lowes and Discount Builder's Supply, you should be pretty good for most basic things and even beyond the basic items. many tile stores have Bay Area connections and locations. Heath tile, for example, is made in Marin and on 18th Street (and don't forget the outlet in Sausalito! Ceramic Tile Designs has a South Bay warehouse, while Anne Sacks has to get inventory from Portland and so on.
But for specialty finishes, high-end appliances, custom-made items, and anything European, the wait times will vary wildly (especially for places that take the month of August off!). So expect to do a lot of waiting. Here are some common lead times:
All Good Things Come To Those Who Wait
Kitchen Cabinets (domestic): 6-8 weeks; (European): 3-4 months (more if company takes August vacation)
Appliances (big-box retailers): 2-3 weeks (delivery); (high-end): 6-8 weeks; (imported): 10-12 weeks
Lighting (widely available): 2-3 weeks if not stocked; (high-end): 3-4 weeks; (imported, European): 3-4 months; (custom/bespoke): 6 months
Windows (assuming custom sizes): 6-8 weeks; (custom - high-end/specialty): 3-6 months
Doors (custom): 3-4 weeks
Hardware (Baldwin/Emtek quality privacy/passage): 10-14 days
Furniture (catalog): 6-8 weeks; (custom): 10-12 weeks
*With the pandemic's impact on supply chains, it's anybody's guess.
Bay Area Vendors
There are so many vendors we work with. Ask us for more but in general....
Lighting:
City Lights in San Francisco (new massive showroom on Bayshore), for all things from the big lightning brands, to outlets and switches, dimmers, LED strips, feature light fixtures to purely functional. Long-time and locally owned and friend of Kevin+Jonathan (ask for Sean)
Circa Lighting on Rhode Island Street (look there, then go to City Lights!)
DWR in Potrero (ask for Hiro, and ask to see the sample room)
Coup d'état on Rhode Island (pricey but stunning)
Restoration Hardware in Dogpatch
Rejuvenation in Berkeley
Coast Lighting, Redwood City, like City Lights but on the Peninsula with bigger and bling-ier lights (think: the Atherton mansions or office lobby scale)
Online:
Tile:
Best Tile on Bayshore
East Star on Carroll (ask for Ken)
Ceramic Tile Design (ask for Heidi)
Ann Sacks in the Design Center
Fireclay Tile in SOMA (super custom and great shapes)
Floor Craft on Bayshore (it's in their name, isn't it?)
Heath Ceramics on 18th Street in SF (ask for Marie) and there's an outlet (!) with factory seconds and thirds in the shed (warning: you will spend hours there, make sure you have all your measurements down solid and bring a calculator)
Walker-Zanger in the Design Center, Berkeley
Porcelenosa off of Division near Townsend, South Bay
Plumbing Trim and Fixtures:
Floor Craft on Bayshore (ask for Fred) (showroom)
Ferguson's on Valencia (showroom)
Excel Plumbing on Van Ness (pipes but showrooms)
Central Plumbing on Fillmore (more pipes and things)
Paints:
Creative Paints, Benjamin Moore (Webster, Ocean Ave, Geary, Taraval and more)
House of Color on 24th Street, Benjamin Moore (expanded lines), excellent supplies (ask for Adalena)
Farrow and Ball, 4th Street in Berkeley (uber expensive but popular, also great wallpapers)
Lowes (their in-house, Valspar brand)
Hardware and Locks:
Don's Key and Lock on Mission Street, long-time San Francisco institution that probably did all the hardware in almost every development in San Francisco or seen every type of lock for 25+ years. Ask for Don Junior or Matt)(high-end to commercial top quality hardware, locks, pulls, knobs, trim, you name it.
More vendors....
General Building Supplies
East Star on Carroll (ask for Ken or Cici)
Discount Builders Supply on Mission
Home Depot (see discussion to the left)
Lowes on Bayshore, San Bruno
Amazon (really)
Specialty Hardware Stores for Victorians, great service:
Cliff's Variety on Castro in the Castro, with more than 80 years in the business, this institution are long friends of Kevin+Jonathan, but especially with Mr. Raffi.
Central Hardware (now in Dogpatch)
Builder's Discount on Mission and Duboce
Electrical Supplies:
Universal Electric on 10th Street (ask for Winnie)
B+K Electric on Mission
City Lights
Amazon.com
Landscaping/Plants
Flora Grub on Jerrold off of 3rd (trendy, excellent plants)
The SF Flower Mart on Brannan off of 6th (for now until they move to Potrero) where we are members if you need something like vases, cut flowers, some potted plants like orchids, houseplants. Some vendors will have public hours after 10:00 a.m.
Sloat Garden Center, Outer Sunset, 3rd Avenue
Home Depot, Westlake center, Colma
Home Depot, Emeryville (it's insane how much more they have here)
Flower Craft on Bayshore (check out their discount section)
Lowes on Bayshore
Broadmoor in Colma (where all the stone, mulch, tools and gravel comes from and more)
Lumber, Decking, Fences, Trim, Millwork
Beronio's off of Marin and Bayshore
MacBeaths in Berkeley (veneers, woodworking tools, thick stock, exotic woods, think wood shelves, furniture grade quality, copping blocks you can make)
Golden State Lumber
Lowes
Home Depot
Reclaimed Building Materials (everything you can think of)
Building Resources off of 3rd in Bayshore on Illinois/Avador (where SF contractors bring all the things they tear out, great pricing)
Urban Oar in Berkeley, off of Dwight (much pricer than you'd expect)
Appliances:
Floor Craft on Bayshore
BCS on Mission Street
Monarch in Potrero
Purcell Murry in Potrero
Best Buy
Lowes
Home Depot
AJ Madison
Ebay (really)
How Much It May Cost: On A Per-Square-Foot Basis
San Francisco recently recaptured the dubious honor of being the most expensive place for construction in the world. The world! The blended average for homes and massive commercial buildings added up to more than $400/sqft, which may not seem like a lot (see below) but given how massive those giant buildings are... One thing to consider is that large commercial projects will often be union sites, meaning that all the workers onsite are part of a given union, whereas most individual residential projects are done by non-union types.
The dollars-per-square foot method is really just a rough yardstick (pun intended) to gauge the costs of remodeling, rehabilitation or renovating. The rules of thumb:
(Good) Decent Remodel: $250-$500/sqft (risk: next to impossible keeping to this figure if project is major)
(Better) Good Remodel: $400-$600/sqft (resulting product could be builder-grade but functional)
(Best) Luxury Remodel: $600-$1,000+/sqft (this is when properties are truly transformed and you'll be amazed; when asking, clarify is this is based on the 'before' square footage or the completed square footage)
How Much It May Cost: On A Per Trade Basis
If you're planning on a major remodel, figure that each trade — or subcontractor — will cost roughly the same. Keep in mind overhead and materials markup will range from 10% to 30%.
Overhead. A general contractor will add-in overhead for getting the bids from each of the trades/subs. If you have someone you know and you're working with a general contractor, you have to see if your GC will allow a sub you hire onto the job because of insurance, coordinating and management reasons.
Markups. If you get your own materials and/or have them delivered to the project site, you may be able to cut back on the markups or sidemarkups. Keep in mind that the materials markup paid to a contractor covers the time a contractor has to devote to shopping and/or getting the dang thing rather than doing what they're good at, but this also means that if something breaks while they're transporting it for you, there's a good chance they'll have to cover it). Cosmetic Remodel: $5,000/trade (fewer trades involved)
Significant Remodel: $6,000 – $15,000 (anything from preparing a listing for market to just short of major demo/reno)
Full and Complete Remodel: $30,000 to $100,000 per trade (depending on size, scope and finish level)
Oh And Who Are The Trades?
Here are the 'trades' that we keep talking about:
Framers Roofers Electricians Plumbers HVAC people Insulators Sheetrockers Painters Floor people Tilers Finish Carpenters Architects Engineers
More specialty trades/services Metal/Ironmongers Steel People Concrete People Landscapers Wallpaper Hangers Plasterers AV People Cabinetry Bricklayers Lighting Designers Solar Installers
Products that usually have installers Fireplaces Appliances Certain light fixtures Cabinetry Glass Installers Windows Specialty finishes Security/Smart home systems Cable/internet/phone
Licensed or Unlicensed? Permitted or non-permitted?
Rightly or wrongly, California consumer protection laws say that for almost everything you do to a property (with the exception of painting, wallpapering, reflooring, a limited amount of plumbing, among other items), you're meant to get a permit from the powers that be. In San Francisco that means it's either a site permit Planning if you're doing something major but most folks will usually just need permits from the Department of Building and Inspection. Usually a contractor or architect can do this for you but an individual homeowner can pull and file for building permits subject to acknowledging all that this means. (See sfdbi.org for details).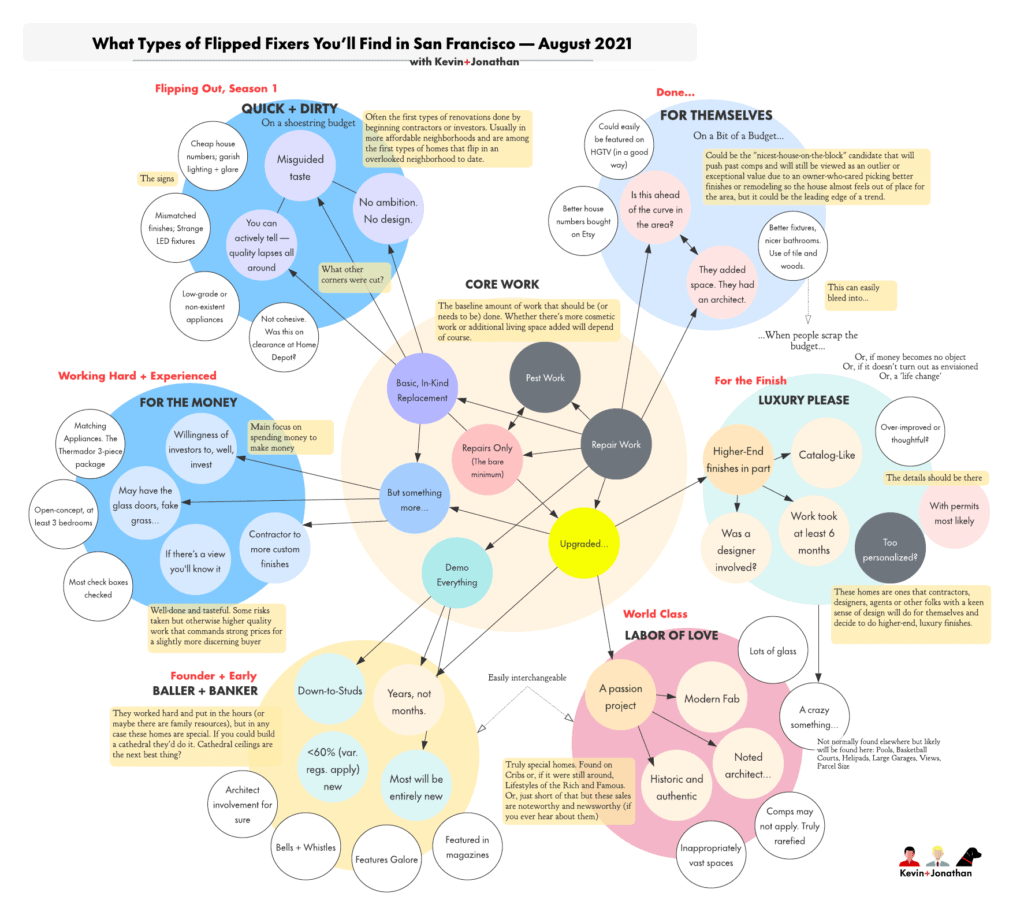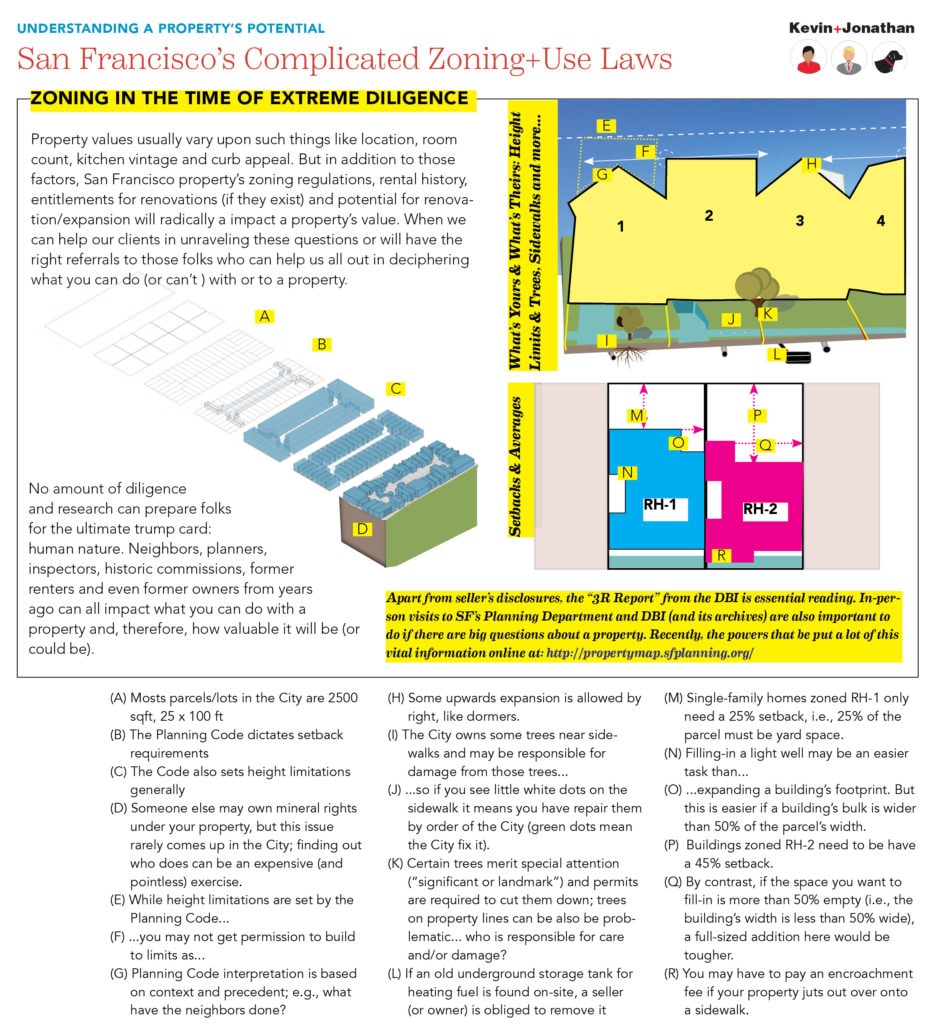 Common Questions About Updating Houses Top to Bottom in San Francisco
Some of the more common questions we get from folks about common features seen in San Francisco houses.
Can I use undeveloped attic space as finished living space?
Most houses in the City will have a pitched roof despite looking like they'd have a flat off as most houses (especially Victorians) will have a parapet facing the street (think of the big hair fringe from the 1980s/1990s) so you'll have to worry about usable ceiling height.
If you're in a condominium building, do you have the rights to develop that space?
If you're looking to count this space as 'legal' and habitable space, are there enough means of egress? (Two for every room). This also means are there windows for someone to get out of (or into) and stairs that comply with applicable standards.
The wood beams that span the floor of the attic are the beams of the ceilings below, most times, these beams were not intended to carry heavy loads because they're usually the top of the top-floor room and provide bracing between the exterior walls. Therefore you need to check with a structural engineer what bulking up needs to be done to the building's structural components — whether it be adding sister beams to the existing ones, or adding new support posts, or something different.
Next you have to account for the heat up there, whether that means a ceiling fan, mini-zone A/C or even a unit-wide or building-wide upgrade. And, with that, you'll have to ensure there's enough insulation too.
Through the clever use of dormers, you too can add space upstairs like a bathroom or room for stairs. The concept is simple — instead of keeping window dormers apart like you'd have in an East Coast colonial-style house, if you combine them together, you'll end up with a pop-out space that has more useful space. Not only is this practical but, provided the dormers don't exceed a certain percentage of the roof's area, the right to add roof dormers is usually something that is exempted from the neighbor notification requirements of the applicable Planning Department regulations.
In our own home, we had especially tall ceilings on the floor below (10.5 feet) and a decently tall attic but given that we had to upgrade and bulk up the ceiling/floor joists to use the space we lowered the floor plate upstairs to add about a foot of height there while still having 9.5-ft tall ceilings below. And instead of 2x4s, our engineer required us to have 4x4s with steel joist hangers/clips. And, of course, we added AC for the whole house and insisted that the now-top floor ceiling had skylights that could open and close.
Is a brick foundation really that bad?
Until we started working closely with our structural engineer, we thought that having a brick foundation in a residential structure in San Francisco would almost certainly be fatal and require complete replacement. Indeed, that may be true in various cases. We've come to learn over time that foundation components work in conjunction with each other but aren't necessarily one continuous whole but can be made up of various sections. Indeed, consider the case of a later horizontal addition or when complete replacement is done to an existing house that a new replacement foundation is usually poured in different, staggered sections with the concrete being allowed to cure for a couple of weeks in between pours. We say this because it will take the sharp eye of a licensed structural engineer and contractor to understand how your particular foundation works and whether you'd need a total replacement or if partial and strategic replacement is all that's needed. For them, it's all about where and how loads — live and dead — are transferred to the ground (i.e., how weight is distributed) and how various shear forces are handled.
Mr. Simpson? Is that You Homer? It's more than likely that if you're doing any kind of framing work, foundation work or strengthening that you will encounter various metal and steel components made by the Simpson Company based in SoCal. Their tie-downs, strong-ties, clips, post connectors, plates and decking components are pretty much the only game in town as they're the industry standard. They also make hold-down components to withstand hurricanes too.
Caulking is your friend.
From stopping drafts, leaks and ants, you will soon discover within the first few months and years after a renovation that you will have the use of this most useful product as the new work settles into place and as the moisture content in these materials acclimate to where it's been installed. For bathrooms and any wet areas like kitchens or exterior-interior connections, be sure to use silicon-based caulking. Calking comes in more than white, black and clear but the red caulking is usually the fire-rated stuff that you can use with fireplaces (always check and confirm). But not everything that comes in a tube is meant as caulking mind you as there are some grout patching materials, concrete/sealant materials and, importantly, adhesives that come in similar tubes, so be sure to read what you're getting before using it.
Getting The Most Out of A Property
It's a vision kind of thing. Ask us more.
Part of our ongoing effort to keep our clients as current as possible with as much information possible.
Yes, we've done many a renovation over our time doing real estate, including the 11-months it took to redo our own house and the countless listings we've helped whip into selling shape, as well as those of our buyers who turned houses into enviable homes. We've watched countless hours of HGTV but also years worth of This Old Houses among others while also talking to engineers, contractors, tradespeople, architects, planners and vendors, but we also have an extensive library that we consult regularly. We've put those resources here in one place so you don't have to hunt and peck for them.
THE BOOKSTORES
It's shame there are fewer and fewer these days but the two that have had staying power (visit them in person and you'll realize why) are in the City and in Berkeley.
William Stout Architectural Books over in Jackson Square in San Francisco on Montgomery (near the TransAmerica Pyramid)
Builders Booksource on 4th Street in Berkeley (next to the Apple Store)
Ask Kevin+Jonathan
Now that you've gotten a flavor of how we look at things, the resources we use and offer our clients you may have more questions or want to do a project of your own. In any case, we are a click away.
A Disclaimer
If it wasn't clear enough from the rest of the page and the topics we previewed for you, we just want to be clear that remodeling and renovating in San Francisco can be a very, very challenging, expensive and time-consuming endeavor. We are NOT contractors, architects or engineers. We are, however, experienced enthusiasts with a large network of folks who have the experience, licensure, and disposition to help our clients navigate and succeed with stunning results.
THE MAGAZINES
Fine Homebuilding (for technique, latest technologies, design)
Fine Woodworking (see above but for the details of things like stairs, windows, mill work)
The Family Handyman (more DIY but still filled with useful tips, tricks and insight)
This Old House (the website is an incredible resource of videos and links to the New Yankee Workshop)
HGTV Magazine (yes, really, design stuff yes, but resources, color codes, trends — all in a very bright and accessible manner)
Interior Design (the industry standard for haute projects, new products and trends)
The Design Magazines, you can imagine: Architectural Digest (all editions from all countries), Elle Décor, Dwell, House & Home, Wallpaper, Monocle, Icon (UK)
The Books (here's where the money and knowledge really resides)
(In the order I found them on my bookshelves today)
Water in Buildings, An Architect's Guide to Moisture and Mold, William B. Rose.
How Buildings Learn, What Happens After They're Built, Stewart Brand.
Architectural Detailing, Function, Constructability, Aesthetics, 3rd Ed., Edward Allen & Patrick Rand.
The Visual Handbook of Building and Remodeling, Charlie Wing.
How Your House Works, Charlie Wing.
Renovation, 5th Ed., Michael Litchfield and Chip Harley.
Home, Sarah Susanka.
Not So Big Remodeling, Sarah Susanka.
Inside the Not So Big House, Sarah Susanka.
The Elements of Building, A Business Handbook for Residential Builders and Tradesman, Mark Kerson.
What Your Contractor Can't Tell You, The Essential Guide, Amy Johnston.
The Elements of Style: An Encyclopedia, Stephen Calloway (Powers).
The Great Houses of San Francisco, Bruce + Aidala.
A Guide to Architecture in San Francisco & Northern California, Gebhard, Montgomery, Winter, and Woodbridge.
DeWalt's Construction Estimating Handbook
A Frame for Life, Ilse Crawford.
And for comic relief: https://mcmansionhell.com/
What Else?
Some potentially relevant links and pages to consider
Evaluating San Francisco Properties + Renovating and Construction in San Francisco: An Overview with Kevin Ho +Jonathan McNarry
Evaluating San Francisco properties, spotting a property's potential and how remodeling works in SF (generally speaking).Delving Deeper. Evaluating, Updating and Renovating San Francisco…