Looking for Better San Francisco Real Estate Services? Good Thing You've Found Kevin+Jonathan.
Kevin K. Ho, Esq.
Jonathan B. McNarry
T O P P R O D U C E R S | T O P 1 – 2 % S A N F R A N C I S C O A G E N T S
"The Best in the Business!"
Kevin and Jonathan believed our house could sell for more than the comparables in the area if we prepared the home as suggested. All their suggestions rang true, including a stager, which I was reluctant to spend money on. In the end our house sold for way more than I thought possible and way more than comparables in the area. It was the best looking house on the block. They did a great job from start to finish and clearly really love what they do. The best in the business!
— Karen and Paul, Lawyer and Electrician, who saw a 40% increase in property value in 14 months
"A Real Advocate for Your Needs"
"This is my second time buying a home, and the experience this time around with Kevin as my agent was *night and day* compared to my first agent. I wouldn't have changed anything Kevin helped me accomplish in the process, and he's been in touch since I've closed on my new place making sure I'm settling in okay. He's also up-to-date with the latest tools to conduct the transaction, so there will be e-copies of everything and no excessive amount of pointless, time-wasting appointments to sign/review paperwork.
If you have Kevin on your side, I think you will end up with a real advocate for your needs who can streamline the entire home buying process for you."
— Hass L., Tech Sector, Design Aficionado, Buyer + Seller
Some of Our Recent Client Successes:
Buyers win Duboce Triangle/Buena Vista Park area property for just $1787 over list price

Sellers get an extra $441,000 after following our advice for strategic updates in the Richmond District

Buyers win wonderful condo preemptively and save $100,000 above the Castro

Sellers gain $300,000 in 18 months with paint and proper staging

Buyers win Noe Valley house against competitive bidding with financed offer
50% BUYERS. 50% SELLERS.
HUNDREDS OF MILLIONS SOLD.
CLIENT-CENTERED.
ENERGETIC. FRIENDLY. ENGAGED.
What Are You Looking to Accomplish in San Francisco Real Estate?
Hi, we're Kevin Ho + Jonathan McNarry (and with our black labrador retriever Raffi) are dedicated San Francisco expert realtors who live and breathe real estate 24/7. We love what we do. So, if you want engaged, personable and energetic San Francisco real estate from agents who are truly caring, comprehensive and enthusiastic then you're in the right place.
Grow your success, wealth and happiness together with Kevin

+

Jonathan (and Raffi).
WELCOME to San Francisco real estate with Kevin K. Ho and my partner Jonathan B. McNarry — Kevin+Jonathan. We're partners in life and in business and we live and breathe real estate with our big black lab Raffi, who is himself a real estate super dog (you'll see him at open houses, marketing videos and in person). We're involved, active and successful professionals who rank in the top 1-2 percent of San Francisco real estate agents. We work at Vanguard Properties, the leading locally owned boutique San Francisco-based brokerage, known for its powerful top-quality branding, LGBT roots and development prowess.
Join Our Successful and Loyal Client Base
Our clients have bought for less and sold for more in one of the most competitive markets in the world. Better yet, our clients are buyers and sellers — a true testament. Why? We are plugged-in, empathetic and responsive. Our approach to real estate is special — we understand that our clients value on our expertise, service and support in making such consequential decisions in their lives. We view our clients as extended family and we take care of them like family with heart, soul and consideration.
Explore our site, read our reviews and take a look at our seller and buyer successes to see how we stand out from other San Francisco agents.
And of course, be sure to contact us today to put all of our knowledge, personality and experience to work for you!

Kevin K. Ho, Esq.
VANGUARD PROPERTIES
Top Producer & Top 21 Club Vanguard Properties, Realtor (bre 01875957), attorney (sbn 233408) Member: SFAR MLS & Technology Committee, SFAR, CAR, NAR, Residential Builders' Association, State Bar Real Property Section, Bar Association of San Francisco, the AIA, Top Agent Network (Top 1-2% of San Francisco Agents)

Jonathan B. McNarry
VANGUARD PROPERTIES
Realtor, Vanguard Properties (bre 01747295), Top Producer, RN, Notary Public, SFAR, CAR, NAR (Top Agent Network, Top 1-2% of San Francisco Agents)
---
"Nobody puts in the time and effort like you guys do."
— Howard E.
Luxury Developer, San Francisco
---
Quick Q+As:
Q: What's Up with Square Footages for San Francisco? 0 Square Feet?!

ANSWER: Determining a property's square footage in San Francisco can be extremely difficult. It's so difficult, in fact, that many property listings will simply say the figure is 'unavailable,' or the space for the number is blank and — worse yet — a property's square footage is a big, fat, round "0." Are we living in a quantum singularity?! No, Mr. Hawkins, we're not living in a warped singularity (it'd be a tight squeeze) in San Francisco (although sometimes it may feel like it). What we're seeing is that many real estate agents are too apprehensive to list a property's square footage for several reasons, including:
Varying measurement standards: do you count hallways? Wall thickness? Closets? What about warranted and unwarranted spaces? (Consider the differing outcomes between a graphic artist, architect and appraiser for example)
Purposeful omissions: It's commonplace that official tax records are inaccurate because many property remodels are done off-book without permits, which is rooted in the fear that applying for a building permit will destroy Prop. 13 property tax rate lock protections by triggering a reassessment of the entire property. While true, the precise reassessment methodology is elusive it's noteworthy that official measurements won't count hallways and closets.
Practical useful living area: With pitched roofs, bay windows and other architectural quirks useable living area will necessary vary from someone who is 7 feet tall versus someone who is 5 ft, 5 in tall, right?
While we've educated our clients to think about the larger picture — after all, once you find out a space has a different square footage than what someone thought it was won't change how the space really feels and lives — we know some folks will get all bent out of shape about a given number. And because San Francisco is such a high-value, expensive market where so many people judge a property's worth on a dollars-per-square-foot basis, you can start to see why risk-averse agents, sellers and brokers insist on withholding a property's square footage.

Q: Why buy property in San Francisco? Isn't it overpriced? Or is it just expensive?
ANSWER: This answer is not brought to you by the local chamber of commerce, but it might as well be. San Francisco is a unique, nutty and rare place where people want to live, work and grow. Think about the last time you saw tourists taking pictures of the Painted Ladies or of some random Victorian. They're taking pictures of someone's house. The houses are so nice that people want to take pictures of them.
It's an expensive place because there are so many people who want to live here and a finite amount of space to house them all — land is scarce and developing it is difficult, expensive and slow-going. While only an incomplete list here's some of why people want to live here along with why real estate is so expensive.
We've been a boom town ever since the City was founded as the region is home to top-shelf new economy companies (Google, Facebook, Apple, Twitter, HP, Yahoo, EBay, Genentech, PayPal, Square), as it is to old school ones (Gap, Safeway, Wells Fargo, Chevron), and to old-new school ones too (Tesla, Intel, Cisco). We have two world-class universities. We have ethnic diversity. We also have geography on our side too being a natural connective point between Asia and North America (and, thanks to the likes of the 787 and A380, international access to most of the world). Apart from the positive draws we also have a lot of regulatory influences at play here that go to lock property for long periods of time. Some of those include rent control ordinances, historic and environmental regulation of building and other distortions like Prop 13's lock on property taxes.
There's undeniable natural beauty and a temperate climate (well, a mix of many microclimates). The interplay of all these factors works itself out in interesting ways when it comes to buyer preferences as many folks won't consider the Sunset because of the fog or the Marina because of the fill, for example.
All of that should give you a sense of why an average San Francisco house has appreciated an average of 7 percent per year for the past 30 years. And before we go, consider that many of the folks who have bought property in the years after the Financial Crisis have done so with cash (as much as 30% of purchases) or have done so with historically low mortgage rates that are locked in for 30 years which goes to lock up even more property so that whatever is left over is that much more expensive. It's proven a robust area capable of weathering earthquakes, drought, and economic downturns and more.

Active and Recent Listings
We prepare properties like no one else. See some examples.
IN CONTRACT: 220 Lassen Drive, San Bruno
Listed with Kevin+Jonathan Big, Bright + Remodeled House Listed at: $1,300,000 IN CONTRACT
Big Views, Tranquil Home
JUST SOLD: 60 Danvers Street
Listed with Kevin+Jonathan Modern Living in the Castro Listed at: $1,495,000 SOLD: $1,550,000
Big. Bright. Comfortable.
JUST SOME OF WHAT OUR CLIENTS SAY ABOUT US...
EXPERIENCED DEVELOPMENT + INVESTMENT SELLERS AT SF BORDER
"Kevin & Jonathan are an all-star team and simply put, they get the job done right."
— Paul & Karen
Sellers of an investment property who gained 40% in value after 14 months of ownership after following strategic updates to a charming single-family house at the Daly City-San Francisco border
OUT OF TOWN SELLERS WHO ENTRUSTED RENOVATION TO US AND SOLD FOR A RECORD PRICE IN 7 DAYS IN THE RICHMOND
At $245K over asking and $441K over initial estimated sales price they knocked the sale of my husband's condo out of this world. I wouldn't be surprised if they set a sales price record for the area! Kevin and Jonathan are without a doubt the most amazing real estate duo we have ever met. They took my husband's tired old pink-carpeted condo and transformed it into a beautifully chic contemporary home….
— Lydia & Patrick
Seattle-based Sellers of a Richmond District Condominium
| | |
| --- | --- |
| Local knowledge: | |
| | |
| --- | --- |
| Process expertise: | |
| | |
| --- | --- |
| Responsiveness: | |
| | |
| --- | --- |
| Negotiation skills: | |
FIRST TIME BUYERS IN NOE VALLEY WHO GAVE UP BUT MOVED QUICKLY WHEN AN OFF-MARKET LISTING CAME UP
We worked primarily with Kevin on our search for a new home in San Francisco. As first time buyers unsure of exactly what we wanted, not to mention where in the city we wanted to be, Kevin was very patient and generous with his time in order to help us figure out what would best fit our desires and budget. With the training and attention-to-detail of a lawyer and the eye of a designer, Kevin has all the right skills. He is personable, professional, hard-working and well-connected amongst agents in the city.
Kevin ultimately found an off-market property in Noe Valley, at the right price, that is perfect for us. He knew it, we knew it, and within 24 hours of seeing the property we had a signed contract. We were able to move with speed and confidence because of our trust in Kevin, the time he took to educate us in advance throughout our search, and his outstanding market knowledge.
We are nothing but happy with our new home and with the outstanding service Kevin provided. Even now, Kevin and Jonathan are only a text or email away with recommendations or answers to our questions. We highly recommend working with K&J!
— Andrew & Kaitlyn
Buyers of an Off-Market Noe Valley Condominium
| | |
| --- | --- |
| Local knowledge: | |
| | |
| --- | --- |
| Process expertise: | |
| | |
| --- | --- |
| Responsiveness: | |
| | |
| --- | --- |
| Negotiation skills: | |
FIRST TIME BUYERS IN DOGPATCH WHO FOUND HOME QUICKLY
As first time homebuyers (and in SF no less!), Kevin helped my wife and I navigate the process from beginning to end. With his exceptional help, we were able to quickly find a place we loved. As others have mentioned, he is extremely responsive and his prior legal background helped in explaining the various contracts we were looking at. We will definitely use Kevin again when looking for our next home and highly recommend him to everyone out there.
— Arun & Maelle
Tech, Buyers, New Construction in Dogpatch
| | |
| --- | --- |
| Local knowledge: | |
| | |
| --- | --- |
| Process expertise: | |
| | |
| --- | --- |
| Responsiveness: | |
| | |
| --- | --- |
| Negotiation skills: | |
---
Live Market Data!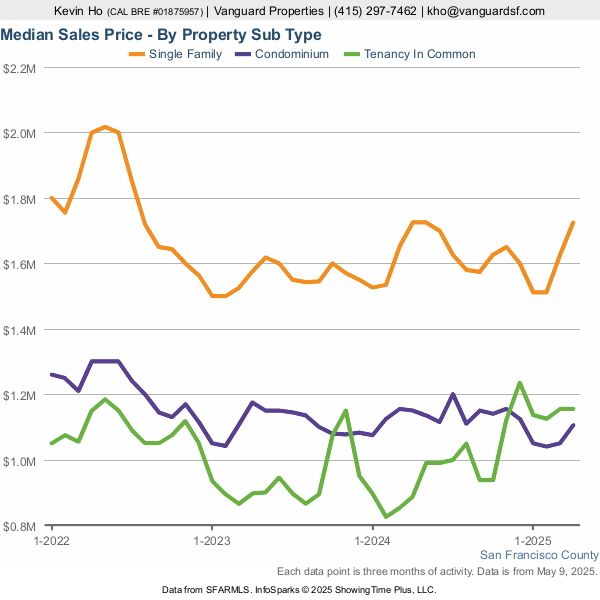 Median Single-Family Home Sale Price in San Francisco: July 2017
---
July 2017 Sales Data (July 1-23)
Average single-family house sale price: $1,785,257 at an average of $998/sqft (increased)
Median single-family house sale price: $1,440,500 at an average of $926/sqft (held steady)
Average condominium sale price: $1,272,244 at an average of $1,053/sqft (slight decrease)
Median condominium sale price: $1,175,000 at an average of $1,110/sqft (big increase)
(Source: SFAR MLS July 1-23, 2017)
Do You Mean the Median? or the Average?
Picking which figure will impact your results and observations
When folks talk about data you'll remember there are the 3Ms: median, mode and mean. We'll only concern ourselves with two: Median figures are prices that are in the middle, the midpoint — with prices 50% above and 50% below the number reported. The mean (average) figure is, well, the total when you add up all data and find the mathematical average. If there is symmetrical data array then using the mean is better, if there isn't then the median is better to use, which is what we see in real estate.

More Real Estate with Kevin
+

Jonathan
W A L K – T H R O U G H S
Walk with Us. These properties caught our eye as being exceptional. Just how a property is exceptional depends! It could be a fixer, a fabulous value or just plain fabulous!
SF Properties We've Walked Through for You
ALL OVER THE MAP
See Where Kevin+Jonathan's Buyers & Sellers Have Succeeded
Buyer Represented
Seller Represented
Seller + Buyer Represented
Other (Referral, Lease, Etc.)