---
KEVIN K. HO + JONATHAN B. MCNARRY
present
Real Estate In the Time of COVID-19

.
(L'immobilier au temps de COVID-19)
---
COVID-19:

Resilient Real Estate Adapts

.
(with opportunities)
→ Yes, real estate is still happening in San Francisco during COVID-19 with a K-shaped, Amazon/Game Stop Market emerging
→ Either You're Leaving or Buying in San Francisco
→ Suddenly shelter and the home office became the name of the game.
After nearly a year of this pandemic thing, we've seen San Francisco's housing market shaken, but not stirred as sales have gone up. Prices have held steady in the aggregate sense but delve a bit deeper and the adage of location, location, location becomes that much more apparent because of the pandemic.
Gone are the open houses where you found out you could buy or that your house was worth way more if Kevin+Jonathan sold it for you. And in their place has evolved a self-guided showing appointments at various properties for sale (provided you can get an appointment).
Because property access may be limited, 3-D property tours and property videos have become the norm for agents who have adapted to this socially distant society. Virtual open houses haven't come into vogue as much as the video and 3-D tour, but seeing a recorded open house that Zoom recorded at 2:00 a.m. is indeed making it easier to experience a property from afar.
What About Property Values in a Pandemic?
We thought you'd never ask. Historic data from past pandemics like the 1918 Flu, something in the 1950s, SARS, the Swine Flu and other calamities show that while the number of real estate sales go down during the outbreak early on, property values remain steady otherwise. This makes sense: less inventory meets less demand. Data tracking COVID-19's impact on real estate appears to be more segmented: suburbs and gateway communities are seeing surges of sales and prices, while more dense areas see softness due, in part, to being able to work and learn remotely.
How Are Home Prices Holding Up in San Francisco?
We took a deep dive into the sales data from 2019 and 2020 comparing the first 10 months of each year and found that, for the most part, we're still seeing strong and steady sales numbers for most parts of the City despite the Pandemic and wildfire smoke. Because of that the demand for single-family houses is, and remains, strong (more people wanting to leave stacked living buildings or realizing they want their own outdoor space) while condominium values have declined in general but only just so — both the median and average condominium sale price figure fell about $20,000-$40,000 from 2019 to clock in at $1.24 million and $1.35 million respectively. This despite that the active available inventory on the MLS is nearly twice the normal at just about 2,000 active listings for houses, condos, TICS, co-ops, parcels of land and 2-4 unit buildings as of this writing. And the purported emptying of San Francisco is a bit premature as the tragic and now more frequent wildfires have shown, there are fewer and fewer places that we can go lest we run the risk of seeing our homes go up in flames or otherwise.
The rental market is taking a hit as we've all seen as work patterns change and remain unsettled. Also, areas like SoMa, South Beach, Yerba Buena and Mission Bay are having a tougher go at it as stacked living buildings (i.e., skyscrapers) are not in favor currently.
1. No Open Houses But You Can See Property
After Open Houses Do Come Back...
Like everything else, when public open houses do come back, expect to encounter limits on how many folks can be inside at once. There may be temperature checks and booties and, most certainly, hand sanitizer, clorox wipes, masks, disclaimers and waivers and who knows what, which is why virtual showings and an online experience will have to suffice for many but become the norm for everyone.
Unfettered Access to Properties is Now ... Fettered?
Gone are the days where you could just stroll into a Sunday open house unexpectedly. Now curious neighbors or looky-loos will have to do this online.
No in-person open houses or broker tours are allowed during shelter-in-place orders until who knows when. But for serious buyers, scheduled appointments at properties (with visitors coming back-to-back-to back) with your agent is the new norm
Suspending public, in-person open houses have had the following impacts
→
Loss of spontaneity: there will be fewer impulse buys that were aided and abetted by being able to go to open houses easily any given weekend
→
Loss of serendipity:
lots of folks may not realize they could afford (or should) buy may not have that chance now. Similarly, folks may not realize that their home (which most will think is usually better than the open house they happen to be in) has appreciated in value so significantly. This may only ever happen when they meet an agent at an open house.
Masked Crusaders vs. the Voyeurs
For the truly determined, interested and serious buyers we can go and see. For everyone else, we can go and see (virtually)
→ While there is no real substitute for an in-person property visit, technology is making it easier to see something without actually being there. We're seeing agents use polished property videos, matterport 3-D virtual tours, and Zoom open houses. And while these means a decent job of communicating what a property is about, a lot of folks want a more genuine sense of what a property is like in person. That's where we come in. We will go out and make exhaustive, first-person walk-through videos that we'll post on YouTube. We've made more than 400 of these videos over the years and have the process down. The hope is that these videos and commentary will help you decide if it's worth visiting in person.
Before an In-Person, Visit We Preview
Even if you're a serious buyer with full underwriting approval, steady income and sufficient cash for a down payment (and post-close reserves), agents are still asking everyone view a property's website, virtual tour, video and, in many cases, disclosure package before we can go and visit in person.
3. Is it like trying to get concert tickets?
Calendly Hunt and Peck for Showing Appointments
→ The most common tool to schedule property showings that has emerged as the preferred booking tool of choice in San Francisco is Calendly. For popular properties trying to get a time may be hard which is why you will hear of more requests to fit into built-in buffers between different groups of buyers visiting.
4. It's Like a Permission Slip
Enough Time Has Passed that there are standard forms to cover all kinds of COVID-19 things like actually visiting a property.
→ The most common form we'll encounter is the one that says no none has had the coronavirus or its symptoms within 14 days of the visit. It's becoming a gatekeeper/proforma routine now as the form also contains waiver form disclaiming the right to sue if you get sick and sets forth the rule that property visits currently limited to two buyers (from the same household).
5. Didn't Al Gore Talk about Lockboxes?
Praise Be the Remote Lockbox
→ Until the COVID-19 pandemic, San Francisco agents rarely put lock boxes on their listings. A property would be too unique or expensive to let people attend without the chance to sell the place in person was the logic. Now that the world has been turned upside down, most San Francisco agents are using lock boxes as the default as health regulations only allow one agent to be in a property at a time, which means a listing agent would have to say hello and then leave while you explored. That would be a waste of time and a public health risk, so this is why the lockbox offers the possibility of showing properties safely.
6. Time to Visit Properties! (Finally)
Agent + 2 Clients for Scheduled Visits:
Venturing Out
→ In-person showings are an essential part of the home sale process and essential enough to the economy that we can show properties to buyers so long as the property has access to hand-washing or hand sanitizer or bleach wipes, and hand sanitizer. Obviously, masks and social distancing inside and outside of a property (especially if other people live there in a different unit).
7. Contracts with Roadmaps
Settling into a new routine
→ The San Francisco housing market took a pause in 2020 but activity has surged in 2021 with single-family houses drawing the most attention while downtown/SOMA condominiums becoming harder to sell. The improvisation and uncertainty of undering in 2020 had settled into a new routine in 2021 with some lenders going almost too cautious and others simply trying to maintain the streak that's gone on for such a long time of ever-increasing prices. Lenders have started to figure practices and procedures when it comes to loan approval, which is just in time given historically low mortgage interest rates.
Track Property Prices in San Francisco
Take a look at what COVID-19 has done to San Francisco real estate prices.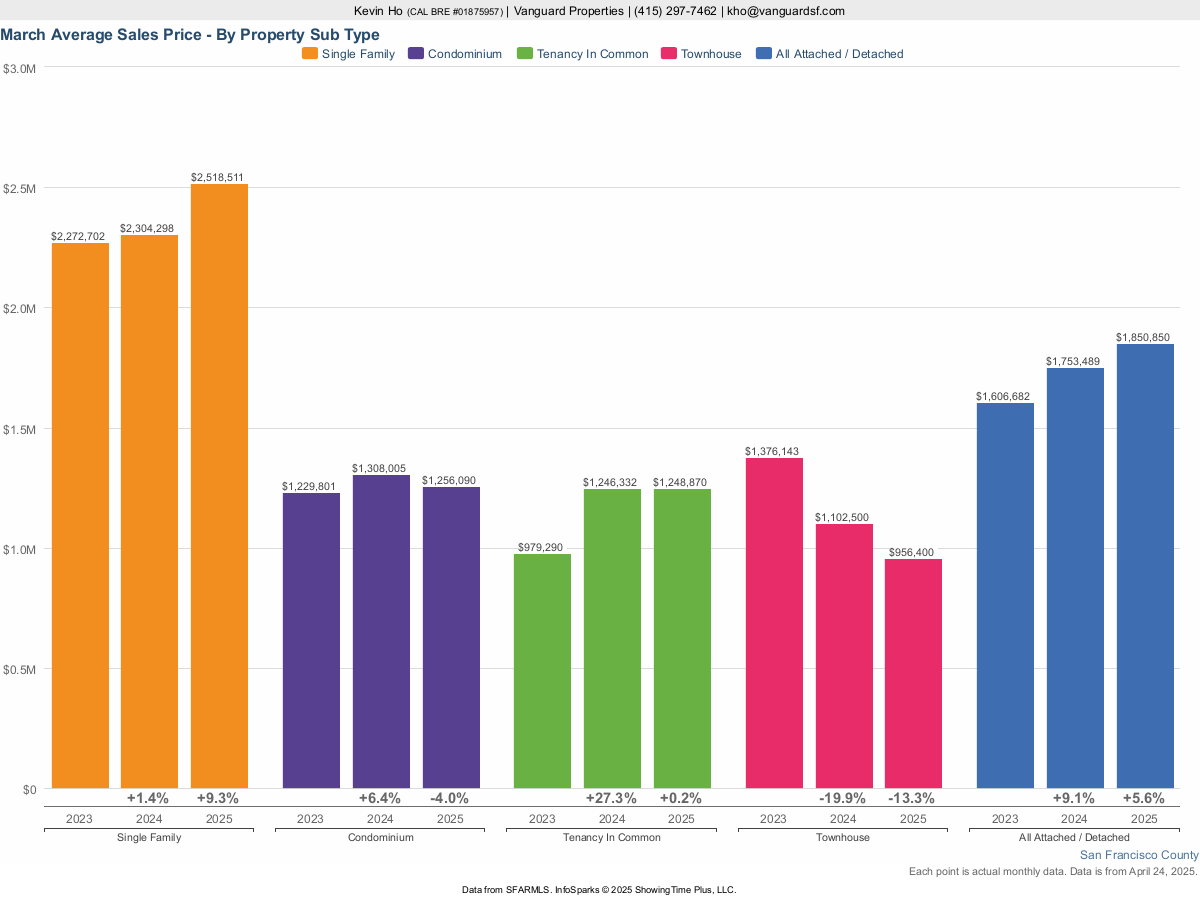 Pending: 1264 Church Street, San Francisco, MLS 423910006 Listed By Kevin+Jonathan
1264 Church Street, San Francisco, a sunny, top-floor, 2-bed, 1-bath, 1-car parking garage space with ±1,284 sqft (per LiDar) as listed by Kevin Ho and Jonathan McNarry of Vanguard Properties. SF MLS 423910006. www.1264-church.com At the heart of this stand-out property is the newly renovated chef's kitchen (designed for cooking classes and entertaining), the new bathroom, new, in-unit laundry, new stainless appliances, dual pane windows, wood floors and designer lighting. Combined with its 1935 Spanish-revival heritage in a sought-after Noe Valley location, 1264 Church is exceptional.
Client Wins with Kevin+Jonathan
Kevin Ho and Jonathan McNarry, realtors, top producing agents with Vanguard Properties in San Francisco, use the power of their long experience, energy, and higher education and visual and graphic design skills to keep buyer and seller clients ahead and successful in our competitive housing market. www.kevinandjonathan.com
Pending: 2621 Bryant Street, San Francisco Mission District 2-Unit Fixer Exclusively Listed with Kevin Ho and Jonathan McNarry, Vanguard Properties
2621 Bryant Street, San Francisco, for sale as listed with Kevin Ho and Jonathan McNarry, top real estate agents with Vanguard Properties. Captivating, sunny Victorian 2-unit gem fixer with timeless grace brimming with potential delivered vacant with yard, full, seismically upgraded full garage in San Francisco's South Mission Historic District with 10'8" tall ceilings, large, secluded and warm yard and optimal location near 24th Street near 101/280, SF Zuckerberg General Hospital and Calle 24. www.2621-Bryant.com SFAR MLS No. 423900390
HELLO.
Hi, we're Kevin Ho and Jonathan McNarry of Vanguard Properties in San Francisco, California. We're partners in life and in business. Together with our big black Labrador retriever, Raffi, we are top producing Realtors in San Francisco's competitive and valuable residential real estate market.
We truly love what we do and are passionately committed to our clients, their needs and advancing their interests. We represent both buyers and sellers with many repeat clients but we are always expanding our client base. Our belief is that by working with you you will make better informed decisions in this most important of areas of life.
We invite you to contact us to learn more and to start your success story now.
SOME STUFF TO KNOW.
To that extent possible, the information here is copyright protected. But other information such as links, articles and the like are only reproduced here for market education purposes. Remember to research all matters discussed here to your own satisfaction.
Terms & Conditions
Real estate is always changing and evolving. It's complex and can be as fickle as it is surprising. And while the information and knowledge on this site is considered to be accurate and correct, it cannot be warranted. Market conditions in San Francisco, California, and the world can change with a tweet or a sneeze and is beyond anyone's control.
In San Francisco, things like local, state and federal tax regulations can change with big implications. Other things like rent control rules, eviction control, lending practices and standards, building and zoning regulations are just a few of the other things that can change with little or no notice. All of these things and other intangible factors can and will impact market values and performance.
Kevin is a licensed California attorney but focuses on real estate about 99.9 percent of the time. It's important to note that while you can't take the attorney out of him he will not be acting as your attorney here. This speaks to the larger point that you should also seek out qualified folks who work in their respective sectors if you have further questions.
Privacy Cookies. Mmm. Cookies.
We've been told that our website may be using cookies — the electronic ones — not the ones that Cookie Monster loves. These cookies, tracking pixels and related technologies are small data files that emanate from our server or platform and are stored on your device or browser.
Our site uses cookies developed by third parties for a variety of purposes with the most important ones to us being focused on supporting our abilities to support our clients — current and future — as they look for San Francisco real estate services.
Also, cookies may also be used to track how you use our site, which, of course, may give rise to seeing related advertisements on other websites you visit. To comply with the California Consumer Privacy Act, we have deployed various measures you may see on this site. If you have a question or concern, feel free to contact us at [email protected]. We want you to be aware that your personal information stays private with us with SSL standards here among other protocols we employ.
© 2011-2020, Kevin Ho, Jonathan McNarry, RTI, Inc.
All rights reserved.

Kevin K. Ho, DRE 01875957/SBN 233408
Jonathan B. McNarry, DRE 01747295
Vanguard Properties
2501 Mission Street, San Francisco, CA 94110
555 Castro Street, San Francisco, CA 94114