---
Real Estate In the Time of Corona

.
ℜ
(L'immobilier au temps de Corona)
---
What About Property Values?
We thought you'd never ask. Historic data from past pandemics like the 1918 Flu, something in the 1950s, SARS, the Swing Flue and others show that while the number of real estate sales go down during the outbreak significantly, property values remain steady and will rise once the danger has passed. This makes sense: less inventory meets less demand. Early data tracking COVID-19's impact on real estate appears to be confirming this phenomenon.
COVID-19:

A Call to Adapt

.
→ Yes, real estate is still happening in San Francisco during COVID-19. People still need to buy and sell property regardless of the circumstances.
Ah, the Before Times.... Gone are the open houses that you could willy nilly stumble upon out one weekend thanks to COVID-19. In their place is a more focused (and, arguably, more efficient) process whereby only pre-approved and committed buyers can actually visit a property they may want to buy in person. While it's difficult to visit a property in person, it's becoming easier to see or 'experience' a wide number of properties thanks to increased agent use of 3-D property tours, property videos and virtual open houses via Zoom, YouTube Streaming. What follows is a rough and early guide as to how real estate is changing in the coronavirus era.
How Are Prices Holding Up in San Francisco?
Thanks to low mortgage rates and the fact that sellers in San Francisco have seen such large gains in their property values over the past 10 years (not to mention the gains properties have made over the past 30 years) property values will remain high because owners have a lot of equity protecting their homes for the time being.
And yet, it's also a good time for buyers who are willing, able and ready to buy because of historically low mortgage rates have boosted buyer power and because there is less competition.
1. No More Open Houses (For Now)
Unfettered Access to Properties is Now Fettered
Expecting to stroll into a Sunday open house unexpectedly or on a whim?
Curious neighbor who just wanted to check an open house out?
→ Au contraire... No open houses or broker tours are allowed during shelter-in-place orders
→ Suspending public, in-person open houses was an early part of social distancing practices that had the following impacts:
Loss of spontaneity: to the extent they happened, there will be fewer impulse buys that were aided and abetted by being able to go to open houses easily
Loss of serendipity: lots of folks may not realize they can buy or that their house has appreciated in value significantly until they meet an agent at an open house in their neighborhood.
When public open houses come back, expect to encounter limits on how many folks can be inside at once, temperature checks, hand sanitizer overload, booties, and signing waivers just to enter a property or for tracing purposes should someone get sick.
For the truly determined.
→ While there is no real substitute for an in-person property visit, technology is making it easier to see something without actually being there. We're seeing agents use polished property videos, matterport 3-D virtual tours, and Zoom open houses. And while these means a decent job of communicating what a property is about, a lot of folks want a more genuine sense of what a property is like in person. That's where we come in. We will go out and make exhaustive, first-person walk-through videos that we'll post on YouTube. We've made more than 400 of these videos over the years and have the process down. The hope is that these videos and commentary will help you decide if it's worth visiting in person.
3. Didn't Al Gore Talk about Lockboxes?
It's Time for a Relay for Keys.
→ Unlike their Bay Area counterparts, San Francisco agents rarely put lock boxes on their listings. A property would be too unique or expensive to let people attend without the chance to sell the place in person was the logic. Now the world has been turned upside down, we're seeing San Francisco agents use lock boxes as the default. Because it's somewhat new practice, we'll see more fumbling for keys, issues with lock boxes and less in-person selling.
Venturing Out (P.P.E., PEADs and all).
→ In-person property visits should be sponsored by 3M, Purell and Clorox at the rate we're going. Before listing agents let anyone visit a property, buyers will have to cough up a pre-approval letter or proof of funds (pardon the pun) and will make buyers sign a the newly created statewide waiver form disclaiming the right to sue if you get sick. Property visits currently limited to two buyers (from the same household) and just 1 agent. Wipes, sanitizer, masks and social distancing do make a property feel a little eerie but if that's the price of admission for a new place to call home and shelter, it's a small one.
5. Contracts with Roadmaps
Navigating this New (not-so) Normal Requires Planning for the Unexpected.
→ A bit of balance is back in San Francisco. The sellers' market of the past several years often meant buyers wanting contingencies, a price break or other concessions wouldn't get very far in the market. While evolving, we're seeing offers with financing contingencies get accepted and a certain amount of negotiation is back too. It's also a good idea to include more flexible contract terms that allow for the unexpected to happen while still promoting good will and understanding on both sides.
6. For Everyone Else Who Bought: Forbearances + Re-Fis, Oh My.
Time-shifting.
→ So, for existing homeowners who may be facing a rough patch who need to defer loan payments to another month (or months) or to the very end of a loan's term (forbearance), or others who just want to re-finance their loans, COVID-19's impact on real estate has been profound. Negotiating with mortgage lenders is on the table again, which was unthinkable at the beginning of the year when the economy was humming along. The economy's shutdown is thought to be only temporary but important enough so as to compel most major lenders to accommodate mortgage payment changes in order to avoid anything resembling the financial crisis era.
Track Property Prices in San Francisco
Take a look at what COVID-19 has done to San Francisco real estate prices.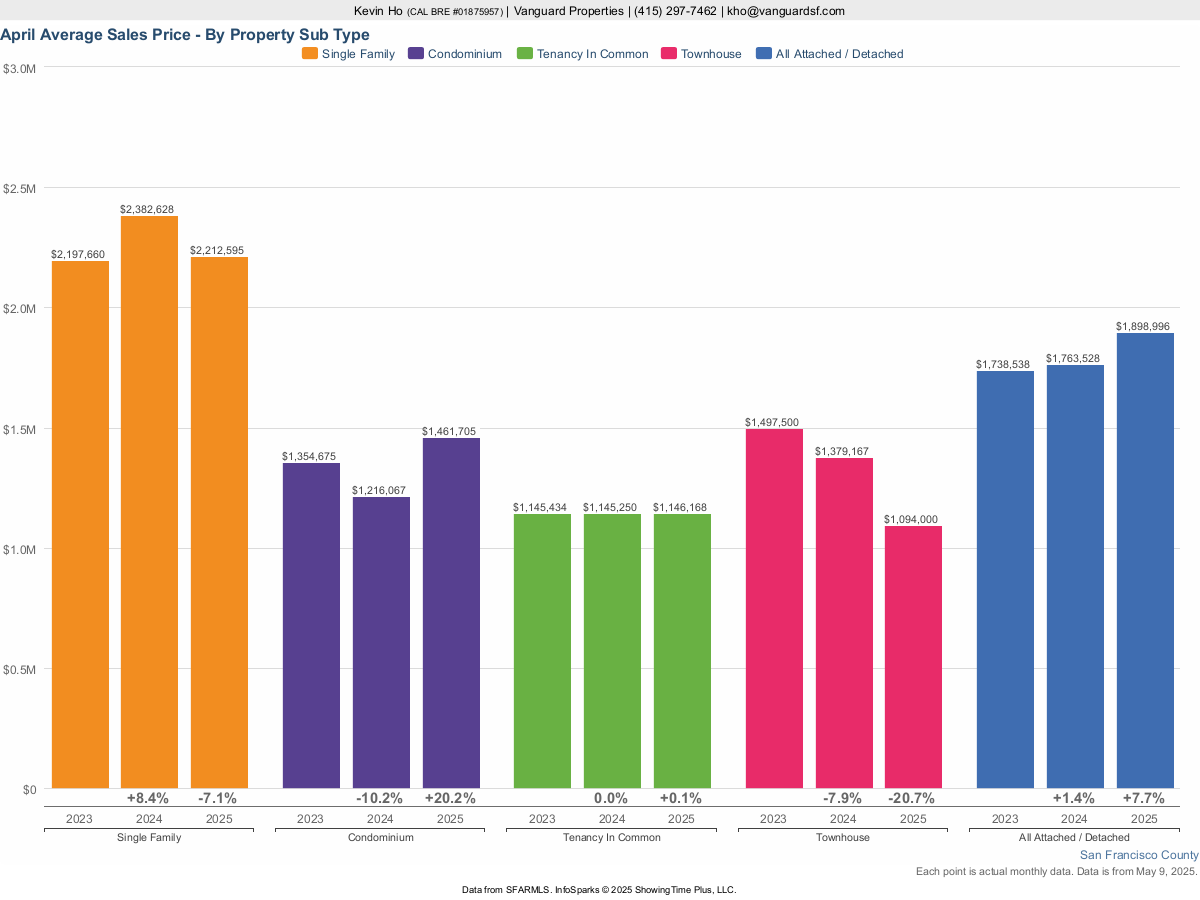 Now Selling: 65 Hermann St., No. 3, San Francisco, MLS # 506536
65 Hermann, No. 3, San Francisco, listed by Kevin Ho and Jonathan McNarry, Vanguard Properties. A sublime urban pad with location, smart updates and comfort in the time when comfort is all the more important. This 1-bed, 1-bath, 1-car parking condominium is right for you MLS 506536.
Now Selling: 875 Vermont St., No. 204, San Francisco, CA | $699,000 MLS 503836
Listed with Kevin Ho + Jonathan McNarry: 875 Vermont Street, No. 204: Just-updated 1-bed, 1-bath, 1-car parking, Potrero condominium with in-unit laundry that's comfortable, bright and relaxed. San Francisco MLS 503836, www.875-vermont.com (https://www.875-vermont.com/)
HELLO.
Hi, we're Kevin Ho and Jonathan McNarry of Vanguard Properties in San Francisco, California. We're partners in life and in business. Together with our big black Labrador retriever, Raffi, we are top producing Realtors in San Francisco's competitive and valuable residential real estate market.
We truly love what we do and are passionately committed to our clients, their needs and advancing their interests. We represent both buyers and sellers with many repeat clients but we are always expanding our client base. Our belief is that by working with you you will make better informed decisions in this most important of areas of life.
We invite you to contact us to learn more and to start your success story now.
SOME STUFF TO KNOW.
To that extent possible, the information here is copyright protected. But other information such as links, articles and the like are only reproduced here for market education purposes. Remember to research all matters discussed here to your own satisfaction.
Terms & Conditions
Real estate is always changing and evolving. It's complex and can be as fickle as it is surprising. And while the information and knowledge on this site is considered to be accurate and correct, it cannot be warranted. Market conditions in San Francisco, California, and the world can change with a tweet or a sneeze and is beyond anyone's control.
In San Francisco, things like local, state and federal tax regulations can change with big implications. Other things like rent control rules, eviction control, lending practices and standards, building and zoning regulations are just a few of the other things that can change with little or no notice. All of these things and other intangible factors can and will impact market values and performance.
Kevin is a licensed California attorney but focuses on real estate about 99.9 percent of the time. It's important to note that while you can't take the attorney out of him he will not be acting as your attorney here. This speaks to the larger point that you should also seek out qualified folks who work in their respective sectors if you have further questions.
Privacy Cookies. Mmm. Cookies.
We've been told that our website may be using cookies — the electronic ones — not the ones that Cookie Monster loves. These cookies, tracking pixels and related technologies are small data files that emanate from our server or platform and are stored on your device or browser.
Our site uses cookies developed by third parties for a variety of purposes with the most important ones to us being focused on supporting our abilities to support our clients — current and future — as they look for San Francisco real estate services.
Also, cookies may also be used to track how you use our site, which, of course, may give rise to seeing related advertisements on other websites you visit. To comply with the California Consumer Privacy Act, we have deployed various measures you may see on this site. If you have a question or concern, feel free to contact us at [email protected]. We want you to be aware that your personal information stays private with us with SSL standards here among other protocols we employ.
© 2011-2020, Kevin Ho, Jonathan McNarry, RTI, Inc.
All rights reserved.

Kevin K. Ho, DRE 01875957/SBN 233408
Jonathan B. McNarry, DRE 01747295
Vanguard Properties
2501 Mission Street, San Francisco, CA 94110
555 Castro Street, San Francisco, CA 94114