THE FURTHEST WEST of San Francisco's neighborhoods the Sunset and Parkside rank among the largest in terms of geographic size, numbers of houses and population density. Traditionally thought of as always being foggy that rep has started to change. Buyers who discovered that global climate change has changed the neighborhood's foggy disposition into a sunnier one, have been buying here while you were busy looking in the eastern half of the City. They've driven up prices over the past few years dramatically.
Apart from the climate, one of the (truer) stereotypes about the Sunset, is that all of the houses look alike. And to a certain extent that is true: there are rows upon rows of similar-looking pastel stucco-clad homes, each with a driveway and two sets of front-facing windows all butted up against each other. This is thanks to the FHA, which really pushed building in the "outer/outside lands" in the 1920s-1950s. The formerly rolling sand dunes by the ocean. Streets are numbered avenues and alphabetical Spanish-sounding names. And while the area was originally referred to as the "outsidelands" the association people have with that name now is usually with a chic restaurant at the end of Judah or with the annual music festival in Golden Gate Park each August.
The City's Planning Department recently did a tremendous job going through the 9 different types of houses and all of the features, embellishments and neighborhood features. Take a look at the survey here.
Where the Sun sets — the Sunset & Parkside: District 2
---
The Beach. UCSF. 9th and Irving. Surgical Scrubs. Good Eats. Golden Gate Park. Fog. Stucco. Pastels. Tile. Power Lines. Two Beds, One Bath. In-Laws. The N-Line. Good elementary schools. Zero lot lines. Wood floors. Split pastel bathrooms.   
---
D + G. The Outer Sunset/Outsidelands. Starting at Sunset Boulevard (approximately 37th Avenue) and extending to the Great Highway (where 49th Avenue would be) stretching from the Zoo to Golden Park. There's also a division closer to the Zoo known as Parkside and the Outer Parkside.
Outer Sunset. Known for its good schools, Ocean Beach and the N-line MUNI the area has bigger homes and life seems to focus around the commute, children and building a form of community. Many neighbors still know one another and homes can be charming  and because of the topography you can see the ocean in more places than you'd think; odd-numbered houses on numbered avenues have a better chance for an ocean view. Homes on Irving, Kirkham and Lawton are worth relatively more. And more interesting: a hipster enclave of sorts has emerged near 44th Avenue and Judah to the ocean with other shops and businesses that have become destinations for MacBook-laden denizens.
The Great Highway. Both the Outer Parkside and Outer Sunset's architectural monotony are broken up right at the water's edge by the homes located on the Great Highway. While some of these homes are literally shacks and homage to an improvisation (can you imagine hippie surfers putting up a shack who never left?). Other homes are architectural in nature and scale and strive to take advantage of the ocean views. Again thanks to global climate change we're seeing more and more stunning sunsets that would inspire an inspirational poster creator. This has raised the desirability of the area and you'll have more people willing to take on renovation projects as the property prices are still comparatively lower and many times the existing property is not worth a lot.
C + F. The Central Sunset & Parkside. From 17th Avenue to Sunset Boulevard. These 2- to 3-bedroom homes will have a bigger footprint of 1500-2000+ sqft many of which have been remodeled to varying levels of finishes from basic to luxury. There are some surprising views from some homes and there are some on deeper parcels depending on the block. Some homes will have architectural flourishes and embellishments.  Homes are approaching $1,000/sqft as the new norm; there's less fog by about 30 minutes per day with a fair chance of having 2 parking spaces.    
G. Outer Parkside. Homes in the Outer Parkside are smaller, densely-packed on treeless streets. It's a little windswept and, well, depressing. Homes here are less expensive and will typically have 2 bedrooms, 1 bathroom over a garage and are usually about 900-1000 sqft. Chances are that they haven't experienced the demographic turnover many parts of the City have so you may get more vintage homes here than not. Unless upgraded recently, homes will likely have unremarkable finishes. The good thing is that developers/flippers have been raising the profile of the neighborhood one house at a time. The absence of trees on many of the blocks and omnipresence of concrete front yards and the propensity for fog (the closer to the ocean you are the greater the chance). What the area lacks in the aesthetics is made up for by ease of access to 280 and the Peninsula. The L-Taraval MUNI light train light snakes through the area from where it emerges in West Portal.
B. The Inner Sunset 1. This is the land of renters many of whom are medical students at UCSF, one of the best medical/nursing/health sciences graduate schools and hospitals in the world, and lifers. There are lots of duplex units, larger Edwardian and mid-century style apartment buildings clustered around 9th and Irving or 19th and Irving and the N-Line on Judah Street.
The Inner Sunset 2. If you're not looking at an income building or condo, you're looking at big Arts & Craft houses along 5th and 6th Avenues, which have seen big price gains in the past few years, big houses up on 8th and 9th Avenues and into Golden Gate Heights in the Windsor Heights area. These homes are big with character; fewer of them have been redone but the ones that have are pretty special but typically not crazy. Expect to pay $1000+/sqft in the entire area before you get to 19th Avenue and much more for views and for done, done, done homes.      
A. Golden Gate Heights. The streets here are perched above the rest of the Sunset and Parkside and nestled next to Forest Knolls and don't have too much to look at. Most of the houses look typical of the area with some notable exceptions. On a cloudy day these curvy crowded streets with few trees make the area look a little barren. But go inside to many of thse homes and look out the windows and you'll see why this area draws many folks — stunning views of the ocean and the entire neighborhood for many and views towards the Golden Gate and the north. The sunsets are stunning and the views are sweeping. This will place a premium on homes with big, big windows and (heated) outdoor spaces and decks.
Some Sunset FAQs
Why the uniformity of the houses?
The Sunset was the logical place to build a massive number of middle-class homes, first as the eastern half of the City was built-up and then after the Baby-boomer generation got its start. Much like a commodity, area homes were all built from a basic set of 9 or so templates which were all meant to conform with FHA-mandated standards. Thus you'll likely encounter the stucco-clad, 2-bed, 1-bath-over-garage, 1000-sqft house configuration time and time again. There are variations naturally but you'll encounter a lot of vintage finishes:  bathrooms will have the typical pedestal-sink, matching-toilet, bathtub and shower layout that will all be clad in tile in varying shades of pink, blue and green for example. 
What other original variations will we see?
Some homes included a center terrace open to the sky;
Some homes had vaulted ceilings in the Tudor style, others looked vaguely French and others looked plainly Spanish;
Almost all homes had thin plank and/or parquet wood floors
Homes would vary on how the finished room behind the garage was used — wet bar vs. wood shop or unfinished for example
Entry into the homes would vary too: tunnel entry vs. direct walk-up
Fireplaces were very common if not universal
But they didn't build them like they used to…
What are some common issues found in neighborhood houses? 
Unlike the homes built in the Eastern half of the City (old growth wood victorians built by hand over time) these homes went up in a matter of weeks. And because the homes used building materials that weren't necessarily the 500-year timber stock earlier San Francisco homes used the resulting quality was different. The good thing is that if your Sunset home has an issue there's a good chance someone else in the area has had the same issue. In other words, more craftspeople should be familiar with how to repair issues because they come up so often. Apart from the mass-production nature of the homes consider that that the area is moist (it is next to the ocean after all) and the ocean and the fog will impact homes substantially: 
Paint on the western sides of houses will wear faster than paint on other exterior surfaces because of the winds and salt air. Exterior paint needs to be maintained so as to maintain a home's water-tightness, especially with the neighborhood's famous wind-driven fog. 
Dry-rot, fungus or termite damage underneath the stucco siding and under the terrazzo entry stairs and underneath the center terrace for homes with the center terrace design.

Because we don't get hard freezes here these pests survive and will have the time to do their work.

Clogged galvanized water supply pipes. Like your arteries these pipes will collect gunk and should be replaced with the more electrostatically neutral copper pipes
Legality of the space behind the garage and whether it can be a considered a legal bedroom. This is something that requires more discussion with us and research of the Planning Code and Rent Ordinance but keep in mind that the area is most likely zoned as RH-1 — a single-family home, which may make that in-law unit an illegal one. But this is all being reviewed by the powers that be (2015/2016).
Inefficient gravity furnaces with pipes wrapped in asbestos insulation. Asbestos, left alone, should be 'okay' according to inspectors we've walked homes with. It's when the asbestos is disturbed (cutting, sawing, chewing) when the building material becomes a health hazard (the fibers have been linked to various types of lung diseases and cancers). Also the furnace design itself is efficient but have proven to work after 40 or 50 years. Various replacement options exist.
Underpowered, Outdated electrical components. Modern life and older electrical systems may not be the most compatible. The area's mass use of one brand of electrical supply box — Federal Pacific, many of which were recalled because of the company's misrepresentation of electrical load capacity — and knob-and-tube cloth and ceramic electrical systems along with the lack of grounded outlets (not to mention GFCI) are all issues that should be explored as remedying these potential hazards can be costly.
Asbestos building siding. Like the use of asbestos furnace wrapping the material was used for siding because of its durability and longevity (the very same qualities that proved to be potential health hazards).While some vintage neighborhood siding shingles may not contain the material the odds are that there are asbestos siding shingles. If intact and relatively stable, most folks simply leave the stuff alone and paint over it. But if there's renovation work going on involving demo or sawing then you'll have to leave it to the pros to remove and remediate safely.
Single-pane Windows. The area's builders used single-pane glass windows when they built the homes. While some windows are casement and slide open and close, many used the weight-and-pulley opening/closing mechanism which means the entire area next to those up/down windows is essentially hollow. No wonder why these windows are often drafty or rattle when it's windy. Importantly replacing windows with moderns ones will not only improve energy efficiency but should also go to dampen street noise.
Outdated toilets and showers. Along with outdated layouts and the fact modern life usually requires more than 1 bathroom per house comes the fact that toilets back in the day used anywhere from 4-6 gallons per flush. Today's toilets (which must be replaced at the point of sale) only use as little as 1.28 gallons. Similarly, City regulations require that sellers install low-flow showerheads before a sale can close.
Before you run away from the area, there are plenty of houses that have been updated and remodeled thus making the above list moot. The Sunset and Parkside can be thought of as variations on an original theme. While the items above are common to the area, so are good schools, proximity to Golden Gate Park, a beach vibe, and the presence of students from SFSU and UCSF. You also have some of the City's best Chinese grocers, restaurants and other places where Chinese is the language of choice. The area is rich in diversity and potential and is one that is getting that overdue second look from buyers looking for more room, value and those who want a single-family house for the same price that many condominiums could cost in other parts of San Francisco.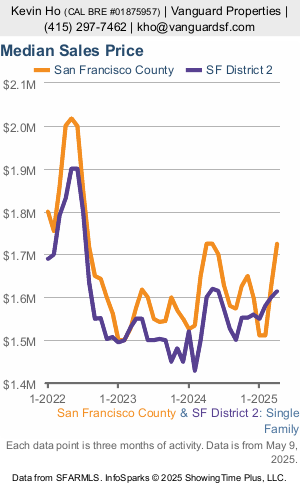 The Skinny
The area is known for its single-family homes. For every condominium that was sold there were 10 single-family homes sold in 2015. Here are 2015 stats for District 2 from the MLS:
412 single-family homes sold, average list price: $1.017M, sale: $1.212M, 25 days on market at $760/sqft
47 condominiums sold, average list price: $916K, sale: $993K, 46 days on market at $741/sqft
52 2-4 unit buildings sold, average list price: $1.2M, sale: $1.3M, 38 days on market at $526/sqft